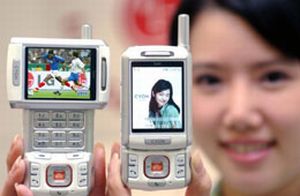 LG Electronics has launched the world's first 'time-machine' satellite DMP phone, named SB-120, which will provide a range of functions.
The SB-120 has a standard home TV antenna function to receive broadband DMB, which will adopt the DMB receiving System-on-Chip (SoC). LG's SB 120 stores broadcasts in its memory and use as a communication device. Afterwards, it replays the broadcasts by enabling the continuous viewing. The SB 120 is designed on the basis of LG Electronics technology and terrestrial broadcast receiving chip.
According to IDC's Worldwide Quarterly Mobile Phone Tracker, the LG will retain the fourth position in sales of mobile handsets globally in the third quarter of 2006.
Via: Platinax