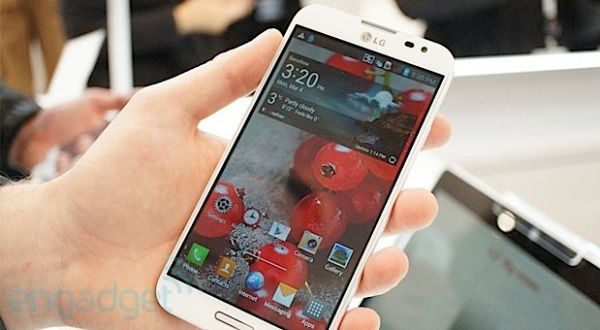 LG has recently launched its Optimus G Pro, smart phone in Japan, after the huge success it got in Korea. The Optimus G launched in Japan is slightly different from the one launched earlier in Korea. The Original version of the Optimus G has the screen size of 5.5 inches, whereas the one launched in Japan has the screen size of 5 inches. But both the versions of this smart phone have the same HD resolution. The Japanese consumers have to get their handsets from the reputable mobile carrier NTT Do Co Mo.
The operating system run by the LG Optimus G Pro is 4.1 Jelly Bean and it has a 1.7 GHz quad core Qualcomm Snapdragon 600 processor. It is full of great features and has a 13 megapixel rear camera and a 2.1 megapixel front camera. The 32 GB storage will help you store audio and video files, work and gaming files in plenty. It has been a huge hit in Korea and 500,000 sets have been sold only within forty days after the product was announced. It has not been yet announced when the G Pro will be launched in USA.
What are the advantages of having LG Optimus G Pro?
· Powerful front and rear camera makes shooting and video conferencing even more fun.
· The 2 GB of RAM helps you store and download more. With the LG Optimus G Pro you can literally carry your world around with you.
· It has a powerful 3000mAh battery which helps you talk and work for hours without having to charge your smart phone.
What are its special features?
· The Specialty of the LG Optimus G Pro is its smart camera and smart video features which enable it to recognize the users eye movement and pause or play the videos accordingly.
· The dual recording feature is another very interesting attribute of this smart phone. Users can take videos at the same time using both the front and rear cameras.
How will it affect the smart phone market?
The LG Optimus G Pro is definitely a meaningful and smart upgrade of its predecessor the Optimus G. The brighter LED lighting, more personalized texting options and superior quality cameras make this smart phone a great buy.