LG GW620, manufactured by the leading manufacturer in the technology space, LG, is a smartphone integrated with Android. This 3G compatible phone was released by LG in November of 2009. It possesses a TFT resistive touchscreen and expandable memory up to 32GB. Ever since its launch, LG GW620 is in great demand all over the world due to its comprehensive range of features available, all in one device. The phone has network support for all networks including HSDPA, 3G, Quad band, Tri band and Dual band. It has a 5MP camera and is Bluetooth compatible. With a QWERTY slider key board, LG GW620 is light weighted and is one of the best phones of its kind. Available in Black, Blue and Grey colors, LG GW620 has numerous features which will aid in a wonderful mobile experience.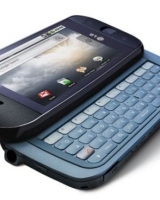 Performance
The navigational and software speed of the phone is excellent and is at par with the best phones in the same segment. It has a 5MP camera with autofocus and LED flash. The pictures taken from this camera are of a high quality and can be shared or sent via the Internet in social networking sites such as Orkut, Facebook, Picasa and YouTube. The phone has a standard battery with Li-Po 1500 mAH make. The phone has standby time of 500 hours in 3G networks and 600 hours in 2G networks. The phone flaunts talk time of 7 hours and 40 minutes in 3G networks and 8 hours in 2G networks.
Features
LG GW620 has a comprehensive range of features. Operated with Android operating system version 1.5, the operating system is upgradable to version 2.2 (the Froyo version). It has an internal memory of 166 MB. This smartphone is compatible with both 3G as well as 2G networks. The data compatibility in this phone includes Bluetooth, GPRS, EDGE, Wi-Fi and USB. It has a 5MP camera which is 2560X1920 pixelated with LED flash and autofocus capabilities. The camera also has digital zoom, face detection, geo tagging, beauty shot, self-timer, white balance and continuous shot features. It also has threaded SMS, group messaging, USB data transfer, USB charging, alarm, flight mode capabilities. The phone comes with 72 pre-installed polyphonic tones. It also possesses email, MMS, IM and push email features. Browsing can be done using the WAP browser and HTML. It comes with a FM radio and is Java enabled. It has accelerometer and compass sensors and also possesses video recording features as well. Other features in this phone include document viewer, MP3 player, organizer, MP4 player, voice memo, photo/video editor and predictive text input. The alert types available in this phone include MP3 ringtones and vibration.
Design
The display of LG GW620 consists of 3-inch resistive touch screen. The total dimensions of the phone is 109mm X 54.5mm X 5.9mm. The screen is 320 X 480 pixels and is inbuilt with 256K colors. The total weight of the phone including battery reads 139 gms. This phone has one of the best display and dimensions available in the same segment.
Bottomline
The LG GW620 is a wonderful smartphone which has a lot of features, all in one device. With real time push emails, full QWERTY pad with S class UI, social networking service manager, Instant messenger and threaded SMS, multimedia and 5MP camera with smile shot and face detection, LG GW620 is one of the best phones available with in the same segment. This all in one device is available in the market at an affordable price of Rs. 12,000. If you are looking for a smart phone integrated with Android OS compatible in all networks with touch screen and camera, then LG GW620 is the best bet. With all the features available in the phone and a lower price tag, LG GW620 is a recommended buy for consumers who are looking for smartphones with all the aforesaid features.