One of the latest offerings by LG, the GS155 is an excellent cellphone and is available at an affordable price. With the number of features it comes along, LG GS155 has become one of the most popular cellphones in the market. Apart from all the features and options, which help you to connect with your friends through multiple SIMs, it also gives you an additional feature of anti-theft mobile tracker. You can also take some really fine snaps with the VGA camera. It also supports microSD cards up to 2 GB of storage.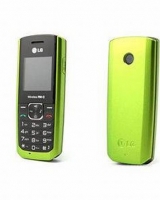 Performance
Getting comfortable with LG GS155 takes no time. In fact, even the users who are new to dual SIM phones will be able to get the hang of it very easily. You will be able to quickly switch to other SIM and send messages or call the ones you love. Having an audio conversation with LG GS155 will be equally easy as the ear speaker is of fine quality and you will have a crystal clear conversation.
There is no support for 3G or any advance features but the phone is great on looks and low on cost so in case you often go out then carrying the phone won't be a big deal as it could be easily put into the tightest jeans' pockets. You can chat with your friends when you are having a cup of coffee while typing an SMS on the phone with one hand. The phone is that slim! However, one really annoying aspect of using the camera in LG GS155 is that there is no autofocus feature with it. So, taking photographs with the VGA camera is somewhat difficult.
You will love most of the popular games and applications in the phone and you might be able to play other installed other games as well without glitches and long loading times as the performance is good. The internal storage memory however, is 32 MB which is somewhat less and when installing heavy apps it could create problems then.
Features
LG GS155 is one of the best dual phones in the market. It features a 1.5 inch crisp display and a good quality VGA camera. You will also find all the common additional features like FM radio, games, audio layer, video player, etc in the phone. The dual SIM features are vast and you get so many options with the phone which help you to easily manage both the SIMs in regard to the contacts, messages, etc. This is one of the most important concerns for a person who wishes to buy a dual SIM phone. Luckily, LG GS155 is able to satisfy all the dual SIM related needs.
The phone is powered by a very powerful lithium-ion battery which gives a 10 hour backup. Also, LG GS155 is available in many exciting colors including green, red and blue. There is a USB port in the device which could be used to transfer music files and other files in the device from a computer or laptop.
Design
LG GS155 is very slim and sleek and is probably one of the best models by LG under an affordable budget. The design's primary focus is on the thinness and sleekness. The thing which makes it stand out from rest of the LG models is its unique and attractive looks and the fact that it has dual band. The VGA camera is wonderful and there is also support for USB connection.
Bottomline
With a 2GB microSD card support, sexy looks and a VGA camera, the LG GS155 phone is a good choice for everyone who wishes to get a good dual band phone at the least price to pay. The body is slim which makes it easy to carry it everywhere. Overall, the phone is one of the best ones in the market.