The slew of entertainment and communication features make LG C375 a great buy. It is a stupendous pick for those who like to stay connected as there are options for instant messaging, texting and even push emails. Staying in touch on social networks becomes very easy as you are updated about the various going ons on these networks constantly. Apart from messaging the phone also helps you stay wired through reliable web connectivity. There is EDGE, GPRS and also wireless internet. The Bluetooth and USB 2.0 also come handy. Not to mention that the dual SIM phone also looks quite dapper.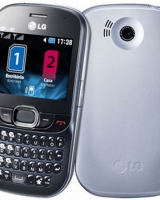 Performance
Communication with this phone is real easy whether you are a business professional or college grad. It has social networks, push email and messenger to stay wired. Messaging is always speedy and smooth. The QWERTY keypad helps you punch in messages faster on social networks like Twitter, Orkut and Facebook. The device also blinks whenever you receive a new post on any social network site. The option of messaging with regional languages is great and the mobile slots in 12 different regional languages. The racket of music from the MP3 player is good and you can also record songs from the FM radio here. The dual SIM is a nifty addition and toggling between the two different set ups or making calls is extremely easy. The strong Li-Ion (950 mAh battery) powers up the phone dynamically giving it a talk time of 16 hours and standby time of staggering 789 hours. 
Features
The TFT display screen measures 2.3-inches and has a sharp resolution of 240 x 320 pixels. Its 2 megapixel camera has innumerable effects like colorings, continuous shots, digital zoom and also white balance. The internal memory space of 78 MB can be extended to 8 GB by fitting in a microSD card. It runs on Java MIDP 2.1 technology. The phone has a lineup of features that help you stay connected. Not only does it have linkages with social networks, but there are also several functions for business users. Push email comes handy when you are on the go. With the Document Viewer you can access Microsoft Word easily and get work done even when you are not in office. Uploading and downloading the files is a cinch with the USB port. 
Design
The neat looking device with rounded corners and a wide girth piece weighs about 100 grams while standing at 113, 61 and 13 mm along the sides. The gadget is neither too bulky nor too slim. You can toss it into your bag without feeling much weight. The front of the phone has a 2.3 inch screen on the top and type pad below with the menu, navigation and call buttons in between the two. The phone is available in two colors black as well as silver.
Bottomline
The horde of connectivity option like messaging, social networks, mails and web browsing will leave you enthralled. Plus, the phone has plenty of entertainment features like music player, radio and camera with nifty effects. Apart from the basics, this handset packs in a number of clever utilities. It supports regional languages, MP4 video formats and games like Word Attack as well as Numeral Café. The mobile will be liked by business users and students alike. Moreover, it offers all these add-ons at a very reasonable price.