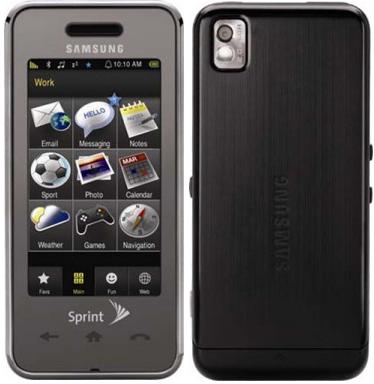 Samsung's F700 was unarguably one of the best mobiles released in 2007 with its great display, smart interface and flip-out QWERTY keyboard. Sprint is going to get new version of F700 which has got same interface with changed icons.
M800 will be soon available with Sprint, retaining the smart interface of F700 it will sadly (for few) lose the keyboard and hence will be thinner. As if losing a keyboard wasn't enough, camera has also been degraded to 2 megapixel in M800. List of supported media formats is impressive though; it will read MP3, WMA, AAC, H.264 and MPEG-4 formats. Video Recording will be done using MPEG-4 format.
It features 3.2" touch screen with 16:9 aspect ratio at 240 x 440 resolution, microSD card slot, CDMA and EV-DO. There is no info about internal memory but hopefully it will be atleast 100 MB just like F700.
M800 hasn't been announced officially yet so there is no info regarding price but its European counterpart F490 will be sold for 530 Euro. F490 is equipped with 5 MP camera, 130 MB of in-built memory and features HSDPA and UMTS. As M800 related info is not official and is leaked so we can expect that maybe it's also got 5 MP cam and 130 MB of memory.
Via: SlashGear