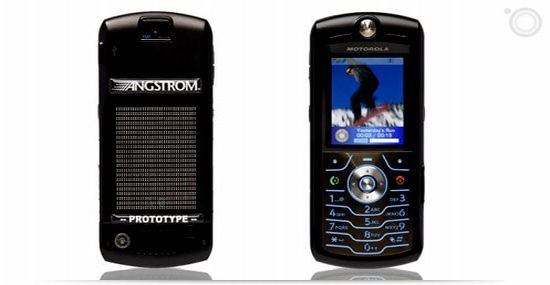 In last decade or two mobile phone technology has been revolutionized by major breakthroughs like text messaging, MMS, inclusion of camera in phones, multimedia compatibility etc. We have come a long way from the first mobile phone to a world where a multimedia capability is just another regular feature of mid-segment phones. Today we rely on our mobile phones for lot more than just basic communication needs.
With time batteries have improved a lot too but not in a way one would have wanted them to. 5-9 hours of music, video or talktime is all that a battery can provide us with and then it would take atleast an hour to charge it up. It'd be miraculous if there was a battery which could be charged in just 10 minutes. Well, it's time for to pull the curtains off the new Hydrogen based fuel cell by Angstrom Power which was running tests on Motorola mobile phone from six months.

Angstrom Power says that tests have been completed successfully. They replaced normal battery with their fuel cell to carry on their tests. This prototype fuel cell didn't increase mobile's size by a bit. Surprisingly, these batteries showed 100% increase in back-up and would charge within mere 10 minutes. Angstrom plans to launch these miraculous batteries by year 2010.
Via: EcoFriend