Lava is an Indian mobile manufacturer that has introduced various cost effective dual SIM handsets. Going in the same league, the company released another multimedia handset A16 in December 2011, which is a candy bar multimedia phone. According to the company, the handset is specially designed for the current generation and can be used as a stylish fashion accessory. The company is somewhat right because it looks stylish, smart and has some unique audio enhancements. Apart from that, this dual SIM handset comes preloaded with various MTV shows like Roadies. The phone is also apparently an unbreakable device, capable of withstanding around 120 kg. Other features will be explained later in the post. Read on to know more.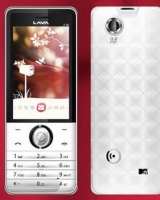 Performance
Nucleus provides a decent performance while its display is crisp and clear. Keyboard is comfortable, responsive and allows quick messaging. Camera takes decent images and videos according to its standards, even in low lights. Audio output is excellent from both loudspeaker and headphones, due to the Yamaha PA and SRS WOW HD. It lacks 3.5 mm audio output jack, so you will be unable to enjoy the superb music on your standard headphone or speakers. Data transfer speed through Bluetooth and internet browsing is acceptable.
Features
A16 comes with 2.6 inch IPS Screen (used in iPhone and iPad) that shows 262 K colors at a resolution of 240 x 400 pixels. The phone runs on Nucleus operating system, has an internal memory 0f 10 MB and an external memory card slot of 32 GB. It features SRS WOW HD audio via its bundled earphones that also has dedicated audio control. Loudspeaker has a Yamaha PA system for an ultimate sound experience and Metal Diaphragm for a seamless as well as clear sound. There is a 3.2 megapixel camera with digital, Omni BSI technology, LOMO as well as Vintage effect and a FM radio with recording. Powered by a 900mAh battery, it gives a talktime of three hours and standby time of 220 hours (9.2 days). Above all these features, it comes with dual SIM facility, where you can use two GSM SIM cards.
For connectivity, the handset has EDGE/GPRS that also allows access to WAP browser, Bluetooth and USB port. The USB port works both as a charging point and as a data transfer port. The phone comes with a privacy protection feature that allows you to keep your data safe. Using the privacy protection facility, you can lock individual image or message. Other features include multi format video/audio player, live wallpapers, social networking programs including Facebook app, call recording, mobile tracker and multiple themes. Audio player of the phone plays most of the major audio formats including MP3, MIDI, AMR and WAV. The phone is Java enabled, so you can download Java based programs and games. It has basic messaging including SMS and MMS. The handset operates at frequencies of GSM 900 / 1800 MHz | GSM 900 / 1800 MHz.
Design
A16 has dimensions of 120 x 47.5 x 13.1 mm and weighs approx 100 grams. The handset has an extremely sleek candy bar build and stylish Diamond cut back cover with smooth contours that gives a soft grip and comfortable handling. Whole body of the phone is scratch proof, so you can expect better durability.
In India, the handset is currently on the shelves with a price tag of Rs. 3,057. The company is offering a 30 days replacement guarantee, if you face any problem.
Bottomline
Lava A16 looks like a great buy. It is a great combination of technology and elegance. The handset helps you to stay connected and looks good at the same time. There are some flaws and disadvantages, but looking at its price, all of them look normal. However, there are few things that can stop you from buying this phone, first is the absence of 3.5 mm audio output and the other is its below par battery backup. If you can deal with both these negative aspects, you can choose it. Overall, not the best phone, but affordable with some loving features, good for those looking for a budget phone with all basic features and great sound.