Lava A10 is a mid-range handset developed by Indian maker Lava International Limited, at an affordable price, especially for the budget buyers. The device flaunts a full touchscreen functionality along with laudable features. In addition, A10 supports dual SIM functionality on the GSM network, which enthralls the mobile phone admirers. Possessing an appealing design, A10 equips better multimedia features when compared to its competitors. With a dedicated application for browsing social networking sites, it's quite evident that the manufacturer has destined to woo the younger generation with this phone. In short, A10 is a stylish handset for the ardent mobile admirers. Explore Lava A10's brilliance on your own.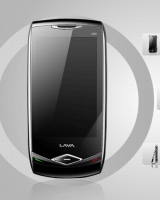 Performance
Lava A10 delivers a phenomenal musical experience with its state-of-the-art Yamaha amplifier which results in hi-fidelity sounds. Powered by Lithium-Ion battery, the handset delivers a convincing standby and talktime period. Browsing internet is appreciably rich and with its dedicated social networking application, users can keep connected with their social circles effortlessly. The handset's primary camera delivers a plausible performance. Inclusion of flashlight and digital zooming options are added advantages. However, its camera suffers in low-lit environment, even when the flashlight is fired. 
Features
Lava A10 sports a 3.2 inches IPS touchscreen that could vividly display information in the size of 240 x 400 pixels. To be literal, the device displays 262K of vibrant hues. As highlighted earlier, this handset is compatible with dual SIM cards; however, it supports only GSM network which means that users can connect two GSM type SIM cards. Browsing Internet on this phone is quite appreciable as the customary technologies like GPRS, EDGE and WAP are compatible. A10 features a pre-installed Opera Mini browser that helps to deliver a rich browsing experience on the move. The handset features a distinct chat style SMS option which delights the users with a friendly interface while viewing the conversations. In addition, Lava A10 encompasses a dedicated social manager known as Rocket Talk. 
Inclusion of a gravity sensor is an astonishing feature that helps the users to access the QWERTY keypad with just a twist. On the multimedia side, A10's 3.2 MP primary camera would not be its highlight. Rather, the device boasts a Yamaha PA system that delivers exotic audio quality. Still, the handset's primary camera is highly appreciable and fortunately, it's accompanied by a flashlight as well. Still images could be viewed on its unique 3D styled picture album. In addition, its primary camera is also capable of recording motion images. As the device is compatible with MP3 and MP4 players, viewing videos and listening to music are effortless with exceptional quality. For the radio enthusiasts, this handset includes a FM radio with recording function as well.
A standard Lithium-Ion battery powers up this device with a convincing talk period. Exchanging data packets with various devices is a child's play due to the inclusion of Bluetooth and USB features, that literally helps on the wireless and wired mediums, respectively. The device possesses an inbuilt memory of 58 MB, but supports a deliberate space of up to 16 GB on the expandable memory through micro-SD cards. Not the least, Lava A10 entitles an universal 3.5 mm audio port that helps the users to listen music on sophisticated headsets. 
Design
Lava A10 attracts on the first instant itself with its sleek and unique design. Belonging to the candy bar form factor, this handset embellishes a gunmetal finish with sharp definitive edges. Below the touchscreen, customary buttons are embossed stupendously. The central diamond shaped button is the seductive quotient on its front face. As in conventional mobile phones, Lava A10 equips its primary camera on the rear face, while the flashlight sits below it. The USB port and 3.5 mm audio port is designed on the upper face, while the volume rocker is carved on the left face. Fortunately, this handset possesses a dedicated shutter button on the right face for convenience. To everybody's surprise, a broad stylus comes along with this handset which is quite useful for navigating over the touch screen precisely. 
Bottomline
Lava A10 is a highly beneficial mobile phone with a sleek and impressive design accents. Though the device has limited SMS and phone book capacity, they are quite generous for most of the users. With its affordable price tag, this device suits the budget conscious buyers. Indubitably, Lava A10 with its sumptuous features is a better choice among its competitors.