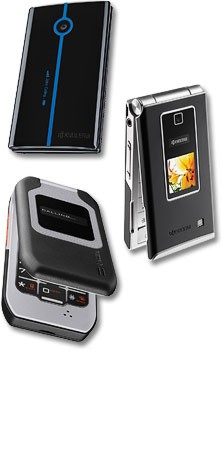 Kyocera has announced their first ever GSM phone series and three new CDMA phones. Confirming the acquisition of Sanyo's phone business, it stated that all three new clamshell models are CDMA, tri-band, support AWS, BREW and come with bluetooth. The three unveiled models have been dubbed as Neo E1100, Mako S4000 and Adreno S2400.
Neo boasts of a special light up stripe with OLED display on the outside. It features a QVGA display, voice dialing and 1.3MP camera. Mako S4000 features dual color displays and a VGA camera. Adreno is the simplest of the lot and features external display, speaker-independent Voice dialing and a speakerphone. There is no word on price and release dates of these phones.
On the other hand, Kyocera's GSM line-up include 4 handsets. S1600, E2500, E3500 and E4600 are privileged with the honor of being Kyocera's first ever GSM phones. S1600 is a bar phone with VGA camera, E2500 is again a bar phone but features 1.3MP cam. E3500 is a flip phone with a 1.3MP cam, whereas E4600 is a media phone with 2MP cam. All GSM phones support North American calling frequencies, but for the time being only South American's will be able to get hold of the new lineup.
Via: PhoneScoop