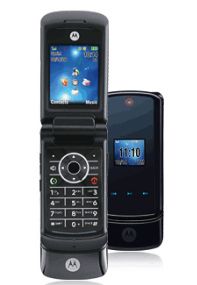 Everybody is taking turns in launching Motorola KRZR. It is already with Verizon, Sprint, T-Mobile and latest to launch it is Cingular (they are already having iPhone hangover I suppose).
This piece from Moto boasts of EDGE and good looks but that sums up all as the rest of the specs are mundane.
A 1.3-megapixel camera caters to your clicking need with 64MB of internal memory and microSD card slot to expand it. The music player supports wide variety of files including MP3 and AAC.
Cingular has integrated Cingular Music menu so you can purchase the music you like on your home PC.
It is also the phone that I think has seen many variants in different colors in the markets worldwide. You can have it for $200 after the usual contract and rebate and flaunt it.