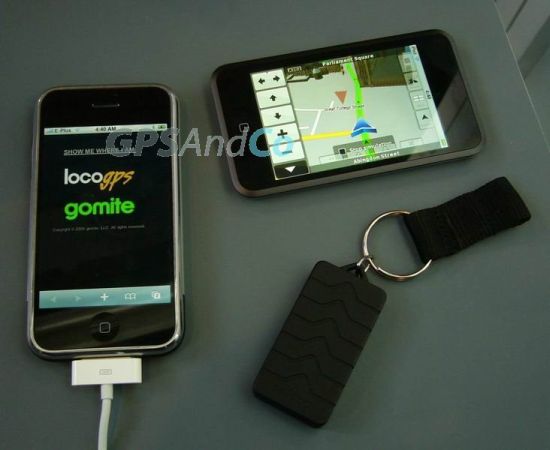 Move over Gmaps, you can pinpoint your location to centimetres on your iPhone with Gomite's newest wireless GPS reciever. Going global has never been easier. And now if you were imagining a gaudy piece of rugged GPS module, stop imagining! How about a keychain GPS reciever? Yes, Gomite has now gone miniature with their latest creation. The Keychain GPS reciever can sit right with your car keys while you fiddle with you iPhone to get directions. Well, that is quite a far cry from their previous offering which had to sit awkwardly in the iPhone's dock connector. Now, all this is achieved wirelessly, the Wifi connect in the iPhone will get the job very nicely done.
The keychain LocoGPS module has a microSD memory card inside to store all the navigational directions along with ofcourse, the GPS and Wifi modules. The iGO navigatinal software is encoded into the keychain itself. So, you don't need to worry about your iPhone running this software. The LocoGPS will do the job for you.
The new LocoGPS keychain module comes in, not very cheap though at about $183. But, for those of you who want seamless GPS connectivity, which is unobtrusive too, this is the device to have. How about some cool keychain designs next time, Gomite? And The cops though, won't be too happy with you fiddling with your iPhone while you drive across town. Don't tell us you weren't warned.
Via: IntoMobile, GPS And Co