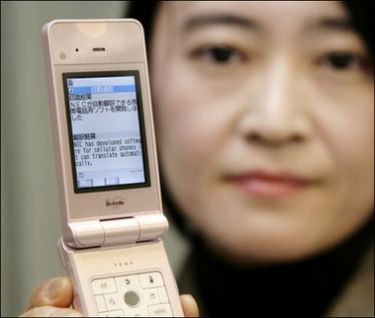 Great news for travellers! A phone translator from Japanese electronics giant NEC Corp. is out today. This will help you understand Japan by translating the language to English. NEC even said that, this technology is developed for the first time in the world.
The cellphone shows the text on the screen just after a second that it hears speech in Japanese language. After that give it one more second to see the English version on it.
It can recognise upto 50,000 Japanese words, and is designed to translate simple phrases like "Can you show the way to library?" and so on.

The world-first automatic translation cellphone technology is a great idea as of now and not yet been decided when it would be out for practical use.
Image Source: Yahoo News Photo
Via: Electronista