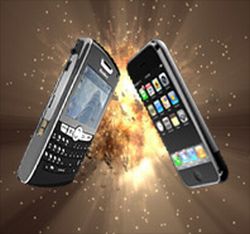 Finally, Apple has blown the trumpet of war with BlackBerry. The revelation came in the form of its announcement of the forthcoming iPhone software update. To realize its dream of winning the hearts of business people and dethroning BlackBerry devices, Apple has even teamed up with Microsoft to increase the iPhone's email capabilities.
Now, that means a clear and open war is in the offing. Currently, Apple's iPhone enjoys the second position with a 21 per cent share of the US smartphone market, whereas RIM's BlackBerry is on the top with 41 per cent market-share. The new update is aimed at creating a new and extended base for the iPhone. The software update will allow iPhones to receive email, contact and calendar information from business computer networks that use Microsoft's popular Office Exchange system. Moreover, the update even promises to provide secure wireless connections to business computing networks by allowing the owners to remotely wipe all data from devices lost or stolen.

The idea sounds pretty cool, but we'll have to wait till June to get the real picture. No doubt Apple is hellbent on dethroning BlackBerry, but then, BlackBerry is famous for its surprise packages.
Source: Current Affairs Herald