The world's renowned consumer electronics manufacturer, Apple Inc, enthralled the mobile admirers with its iPhone lineup. To mention, iPhone 4 belongs to the fourth generation of this segment, with exceptional and better features than its predecessor, iPhone 3GS. The handset's expensive price tag is convinced by every feature in this handset. In fact, one would end up shortly, if he/she starts counting the features that are excluded in this mobile phone, rather than that are included. Uncover the handset's brilliance on your own to realize its worth for its high price.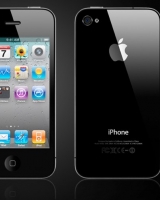 Performance
To be precise, iPhone 4 has got intense features in the interface more than on its exterior. The primary camera could also be used to show live video contents to the person on the other end, while making video calls. With iPhone 4's high speed processor, multitasking is literally a child's play. Its Li-Po battery is quite bigger than it predecessors and so, it delivers about 40 percent more talk-time than its earlier version. Technically, it delivers a talk period of up to 14 hours on the 2G mode and about 7 hours on 3G. Its standby time is estimated to be around 300 hours on both the modes. 
Features
On the first glance, its bigger 3.5 inches TFT touchscreen attracts attention instantly. With a LED backlit feature, this In-Plane Switching screen could exceptionally display 16 million shades of vivacious hues. Technically, it encompasses a resolution of 640 x 960 pixels with a pixel density of 330 ppi which is even little higher than the human eyes' perceiving ability. In addition, the device is secured with corning Gorilla glass and its touchscreen has an oleophobic coating that literally repels fingerprint oils. 
The handset runs on iPhone OS 4 which could also be upgraded to version 5.1. Performance is accentuated by its 1 GHz Cortex processor and the presence of an Apple A4 chipset adds value. Sophisticated sensors like gyro, compass and proximity deliver an effortless user experience and saves energy as well. In addition, an accelerometer modifies the orientation of the screen according to the user's wish. For easy access of the internet, the device entitles several technologies that include GPRS, EDGE and WiFi. With its inbuilt Safari browser, surfing internet is quick and comfortable as well. The handset is equipped with an Assisted GPS unit. Therefore, choosing the uncertain routes and reaching your destination is a child's play with this device.
Peeping on to its multimedia features, iPhone 4 brims with sumptuous options. A 5MP primary camera with an LED flashlight strikes immediately. This feature has auto-focus, Geo-tagging and touch focus options too. In addition, inclusion of a HDR function is simply mind-boggling as it's a time-consuming process with the conventional techniques. This primary camera could record motion images as well in the resolution of 1280 x 720 pixels at the speed of 30 fps. Inclusion of a front-facing secondary camera is very convincing, though it could record VGA videos only, but supports video-calling over WiFi. 
Unfortunately, this handset lacks radio. On the fortunate side, iPhone 4 has got a dedicated microphone with active noise cancellation feature. Powered up by a standard Lithium-Polymer battery, this device could deliver convincing performance for the prolonged users too. The handset includes the conventional connectivity features like Bluetooth and USB for transfer of data packets with various devices. There are only two color choices for its handset, the classic black and white.
Design
Sculpted as a sleek candy bar form-factor, iPhone 4s measures 115.2 x 58.6 x 9.3 mm in dimensions and weighs 137 grams, which is quite convincing for a smartphone. The overall outlook is not flashy, yet possesses a classic appeal. On the front face, the touchscreen, touch button and the earpiece are designed. In addition, the front facing secondary camera takes position near the earpiece. As in conventional mobile phones, the primary camera and the flashlight sits on the rear panel. Buttons for the volume rocker and other conventional options are carved on the sides.