iPhone 4S was awaited for long after the release of iPhone 4. The phone was released followed by heavy marketing and advertising. iPhone 4S has kept the look and feel of its previous version, iPhone 4, intact. 4S runs on IOS 5 and features the "Siri", a virtual voice activated assistant. iPhone 4S has a 3.5 inch screen which supports a brilliant resolution of 640×960 pixels. Under the hood, phone has a dual core A5 processor. It also has a 512 MB RAM, along with a front facing VGA camera for video calls. The connectivity in 4S has also been improved to 14.4 Mbps download speed. The 8 megapixel camera is capable to shoot videos in 1080p.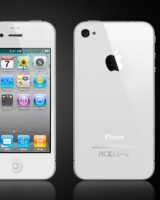 Performance
iPhone 4S is a global phone which means it would work on any network with same hardware and software. If you mute the phone there would still be a noise on the other side and it goes away when you un-mute the phone. The speakerphone is simply a delight to use. It also has an improved antenna, which ensures that you get good reception even at places where the signal is weak. iPhone 4S has an improved battery which would give you a better performance than iPhone 4. It offers a talk time of 8 hours and you can easily use it for one full day after a complete charge.
Features
iPhone 4S was an update over iPhone 4, just like iPhone 3GS. The phone has a similar design but a little tweaks here and there. This phone runs on iOS 5 along with iCloud integration.
It has a little improved download HSDPA speed of 14.4 Mbps and 5.76 Mbps in case of HSUPA.
It has a 3.5 inch backlit LED screen which supports a resolution of 640×960 and supports 16M colors. The screen it topped with a scratch resistant glass.
The phone runs on 1GHz dual-core ARM processor which provides good multitasking. iOS 5 has also integrated Siri virtual assistant.
The phone can record HD videos in 1080p with 30 frames per second, thanks to 8 megapixel camera. There is another camera in front for making video calls.
iPhone 4S has GPS, Wi-Fi connectivity and active noise cancellation circuit to cut down ambient noise during calls. It has the latest Bluetooth 4.0 too, which has better transfer rates.
Design
The phone has a revolutionary design. The phone is very slim, lightweight and easy to carry. In fact, the dimensions are so good that it fits perfectly in your hands. The retina display does the task beautifully. The display supports a pixel density of 326 ppi. Just below the screen, you will find the Home key. The design is practically the same as of iPhone 4S. It has same ports at the very same places. The front facing camera is good enough for video calls and even clicking some self-portraits. It has a dedicated power button, a micro SIM slot, volume controls and noise cancellation. The major changes are the auto focus 8-megapixel camera with illumination. 
Bottomline
iPhone 4S is probably the hottest selling smartphone throughout the world. Every big manufacturer wants to beat it out, but not yet. However, we are not so happy about the pricing. You can get a good android phone for the price. But if you are a strict Apple fan, you are going to love it. Apart from unfair pricing, this phone has a lot to offer in terms of entertainment and functionality. One major drawback is no 4G support. Hence, it is slower than devices working on LTE networks.