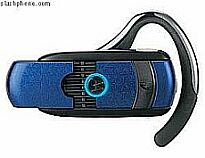 The Motorola H800 Bluetooth headset having sleek make and innovative slider design, features Rapid Connect technology for trouble-free, instantaneous connections
The Bluetooth 2.0 gives superior quality conversations with negligible noise and echo. The elegant laser-etched patterns meet your style.
The lightweight H800 is likely to come to the stores in the beginning of 2007.
Via: SlashPhone