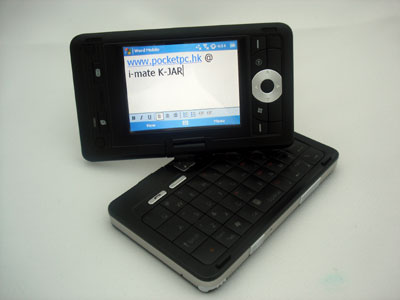 TechFaith and i-mate have planned to release another full keyboard PDA integrated with a phone.
The K-JAR will have a QWERTY keyboard and a sporting and swiveling 2.8-inch display.
This new device will be released in November.
Check out the amazing features of this Hi-Tech phone:
Physical Attributes:
Dimensions in mm: 76 x 113 x 19.5 mm (width x height x depth)
Mass with battery: 180 grams
Software Environment:
Embedded Operating System: Microsoft Windows Mobile 5.0 for Pocket PC Phone Edition (Magneto)
System Kernel:
Microsoft Windows CE 5.1.342
Microprocessor, Chipset CPU: Texas Instruments OMAP 750
CPU Clock: 200MHz PDAdb
Data bus Width: 32bit
CPU Core: ARM926EJ-S
Level 1 cache: 8KB data cache / 16KB instruction cache
Instruction set: ARM v5.
Memory:
ROM size: 128MB
RAM type: SDRAM
RAM size: 64MB PDAdb.net
Graphical subsystem:
Display: color transflective TFT
Color depth: 18bit/pixel (262144 scales)
Resolution: 320 x 240 (76800 pixel)
Diagonal: 2.8″ (72 mm)
Viewable size: 2.3″ x 1.7″ (57.6 x 43.2 mm)
Dot Pitch: 0.18 mm/pixel
Audio subsystem:
D/A converter: 16bit audio sampling, stereo
Audio Input: mono microphone
Audio Output: 2.5mm, stereo
Interfaces:
Positioning Device: None
Keyboard: 39-key QWERTY keyboard
Navigation Pad/Jog: 5-way navigation block
Expansion Slots: miniSD PD
Serial Connector: 115200bit/s
USB Connector: USB 1.1 client, 12Mbit/s
Infrared Gate: IrDA 1.2, 115200bit/s (SIR/CIR) PD
Bluetooth: Bluetooth 1.2
LAN: Not supported
Wireless LAN: 802.11b, 802.11g
Wireless LAN Speed (max): 54Mbit/s
Modem: Not supported
Integrated cellular phone:
Supported cellular networks: GSM 900MHz, GSM 1800MHz, GSM 1900MHz PDAdb.net Supported
WAN standards: CSD, GPRS, and EDGE
Other peripherals:
Built-in Camera: CMOS sensor, 1600×1200 (1.92 million pixels)
Recordable Image Formats: JPG, BMP
Camcorder: 176x144pixel, 10frame/sec
Recordable Video formats: 3GPP, MPEG4
Power Supply:
Battery: 1320mAh, Lithium-ion, removable
Estimated Battery Life: 10 hours
Average Current: 132 mA
Via: engadget