HTC is undeniably one of the powerhouses in producing Android based gadgets. With the release of HTC Wildfire, the company is eyeing for budget friendly smartphone market. Wildfire is for those people who are looking for a smartphone on tight budget. Looking at its features and appearance, one can say that it is a cut piece version of famous HTC Desire, but this is not the only reason why we should like it. There are many reasons that make Wildfire a winner, including solid build, superior interface and responsive touch screen. This is the reason why even after more than a year of its launch, people recommend Wildfire to their friends.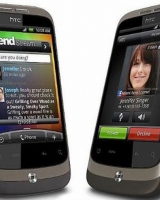 Performance
Touch screen and optical track pad of the phone provides easy navigation while the camera keeps the photographers happy by doing a competitive work, even in dim light. Screen size is decent but if you are accustomed of using smartphones with larger screen or you have big fingers you will face some difficulty while making appropriate selections.
Android 2.1 and Sense UI makes the phone very easy to use and smooth to operate. Once you switch on the phone for the first time, you will appreciate the way it sets easily and quickly with just eight steps. Within a matter of minutes, you will be able to import your contacts, synchronize Google account, connect Wi-Fi and set your preferences. Popular widgets like weather, contacts and news come preinstalled to home screens but moving or removing these programs is very easy.
Features
The touchscreen handset runs on Android 2.1 and comes with 3.2-inch QVGA capacitive touch screen and 5-megapixel camera with LED flash, which is powered by Qualcomm MSM 7227 528 MHz processor. It has 512MB ROM, 384MB RAM and can support micro SD card up to 32 GB. The phone comes with FM radio, GPRS, Bluetooth, EDGE, USB connectivity and A-GPS.
HTC has included Facebook in everything including calendar to caller ID to make Wildfire look like an all-an-all social networking phone. Sharing Android apps is also an easy task as users can send links to friends from the handset. There are seven home screens available and all can be easily customized according to users' choice. Combined with Android, HTC sense gives you an ultimate experience of using apps. Friend Stream allows you to see updates from all your friends from Facebook, Twitter and Flickr on the same screen. Caller ID shows the caller's name, picture, Facebook status and date of birth. Leap View shows the thumbnails of all your seven home screens at one place. Overall, we can say that Wildfire is all about Internet, social networking and messaging.
Design
When it comes to looks, none can be disappointed by Wildfire. With dimensions of 106.8 x 60.4 x 12mm, it looks mature. The phone appears nice, compact and weighs only 118 gm. On the front panel, there is only one button that acts as an optical track pad; all the other controls are located at bottom of the touch screen. Dedicated key for camera is not present here, so the same track pad works as a shooter. The handset has a volume control on left side while power/screen lock button and 3.5 mm headphone jack sit on the top.
Bottomline
HTC brings the power of Android to a budget smartphone through Wildfire, which is quite impressive. The phone incorporates super responsive touch screen, smooth interface, 5-megapixel camera, GPS and offers a fast web browsing. It gives a lot for the money you paid, but compromises have been made with processor speed, screen size and memory. Apart from that, one of the biggest weaknesses of Wildfire is the lack of latest OS. Overall, Wildfire is a good handset within your budget and is perfect fit for niche market; however, if you can spend few more bucks, there are better options available in the market.