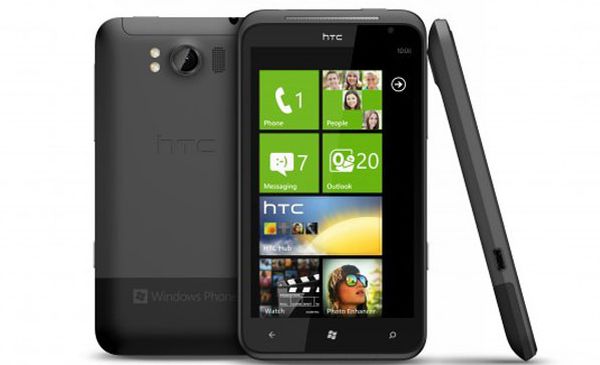 Overview: Glimpsing over HTC's diversified range of smartphones that piggybacked a slew of amazingly innovative attributes should no longer throw a curve, considering the company's creative cap that's always in action. This time, it's gorgeous HTC Titan Windows Phone that has forayed into the scenario for smartphone admirers who want a fusion of unrivaled styling and avant-garde technologies. Apart from its operating system that highlights, the multi-tasking machine shines with its outstanding camera capabilities. Based on the latest Microsoft Windows Phone 7.5 Mango OS, the device comes integrated with a powerful 1.5GHz single-core processor to justify its tag line 'unlike anything you have ever held before.'
Pricing and availability: Beginning in Europe and Asia, HTC Titan is anticipated to be available from October 2011. Users can pick the smartphone up for free on signing up to a monthly contract of approximately £31.
What's great: With entertainment on the move, the striking Titan enables users to view their favorite content on a large 4.7-inch LCD touchscreen display with 400 x 800 resolution. Wrapped in an incredibly sleek 9.9mm aluminum case, the smartphone touts to feature the largest screen in an ultra-thin framework. Designed to deliver a matchless experience with new heights in photography and multimedia and social capabilities, the device lends support to DLNA, 16GB of internal storage, GPS, Bluetooth 2.1 and Wi-Fi. For users enthusiastic about clicking pictures, there's a high-end 8 megapixel camera and a 1.3 megapixel front-facing camera. The experience gets better with its dual LED flash, auto-focus and 720 movie mode at 30fps. Instead of irksomely dragging the point and shooting camera around, the integrated camera accompanied by F2.2. lens and BSI sensor ensures to proffer a high resolution image quality experience under any condition. With such pixel-packed photos, users can indeed be at comfort whilst leaving their point and shoot at home.
Rightly entitled, the Titan renders a gigantic experience by utilizing Microsoft's Mango operating system that enables multi-tasking and a speedy 1.5GHz processor. Users can even indulge in Windows Live accounts in Pictures hub and other social networking sites to stay knitted with closed ones. At the same time, the phone intrigues with 5.1 surround sound for video and Music and Videos Hub powered by Zune. Some other significant highlights comprise 3.5mm stereo audio jack, support for various audio and video formats, 1600mAh rechargeable lithium-ion battery, Bing Maps, and sensors including gyro, G-sensor, digital compass, proximity sensor, and ambient light sensor.
What's not so great: Though HTC Titan looks highly promising with almost everything a user might need, the smartphone somewhere disappoints with its slightly bulky body. Also, users who aren't used to massive screens may not find the device's titanic display comfortable. If your hands are small, then HTC Titan will definitely not appear comfy to you owing its wide dimensions that size up to 5.18" x 2.78" x 0.39".
Things to watch out for: If you aren't comfortable with sheer sizes in mobile devices, Titan with a weight of 160 grams with battery may provide some ergonomics issues then. Also, smartphone users who are greatly in love with applications can better off look somewhere else. Unfortunately, the Windows Phone Marketplace still lacks to an extent in terms of incorporating apps.
Verdict: The latest HTC Titan based on Qualcomm's MSM8255 Snapdragon system emerges to be a perfect pick if exquisite design and massive multimedia capabilities are on your lookout. A phone full of surprises, the gorgeous Titan pleases further its build quality, massive display, great user interface and highly responsive touchscreen. With this one around, users can seamlessly jump between their work mode and play mode. They can also listen to their favorite tunes while working on some document or check important emails with utmost ease. Not only does the device come packed with spectacular features to enhance your productivity and efficiency, but also simplifies your everyday tasks with its smooth and unbelievably intuitive touchscreen. The smartphone features heavy potential to surpass many others hovering across the market presently.
Further readings or Word around the web: As 'Mango' operating system at its heart, HTC Titan has certainly driven smartphone lovers and technology enthusiasts by a considerable extent. The smartphone features great competency when compared with other devices running on advanced operating systems. Though HTC has already gained a niche in designing crazily innovative Android devices, its latest plunge into Microsoft's new OS is anticipated to put forth an experience never felt before