HTC Droid Incredible was an impressive gadget that not only won accolades, but also millions of hearts. HTC Incredible S is the next-gen version of the Incredible series, which was first unveiled at the Mobile World Congress in 2011. Incredible S is another high-end phone from HTC that combines a large 4-inch touchscreen with a single-core 1GHz processor to offer you enough workspace and power to have fun with your new gadget.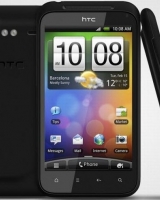 Performance
The phone runs smoothly on Froyo and there are no issues regarding UI navigation, thanks to HTC's Sense UI. However, just like other HTC phones, transition from Landscape to Portrait is still glitchy. There are no issues at all with the call quality and the device does a great job in being able to play a number of file formats. The device though lacks the HDMI port so you cannot transport your movies to the big screen. The camera takes pretty good pictures and is capable of 720p HD video recording at 30 fps. Features such as Face detection, Geotagging and effects such as Distortion, Vignetting, Vintage etc. help you get more out of your device. Incredible S can survive for about two days on its 1,450mAh lithium ion battery with not-so-heavy multimedia use, which is pretty good. The phone comes with pre-loaded Mobile Hotspot app, which allows you to share its 3G services with up to eight WiFi-tethered devices. It certainly offers a richer audio experience thanks to the SRS surround-sound technology. The handset is pre-loaded with a set of applications that will let you have fun e.g. Teeter, and those that will help you increase your productivity e.g. Adobe Reader and QuickOffice.
Features
The hardware that powers the phone underneath is a 1 GHz single-core Scorpion processor and Adreno 205 GPU. The phone was released with Android 2.2.1 but can be updated to version 2.3.3 now. The phone comes with HTC Sense UI that enables you to tweak the UI based on the mode of your use. In terms of connectivity, Incredible S packs everything, which is HSDPA that supports speed up to 14.4 Mbps, Wi-Fi, Bluetooth and A-GPS. You're offered a number of online services with the phone on HTCSense.com such as remote wiping the phone in-case it gets stolen, forwarding your calls and messages to another phone in case you forgot your Incredible s at home, back up your contacts and messages, and more.
The phone comes with 1.1GB of in-built memory and 8GB memory card that should suffice your storage needs. The 8-megapixel camera comes with dual LED flash, which will take care of your photography needs in murky conditions. The phone also boards the FM radio and supports a large number of audio/video formats such as MP3, WAV, WMA, AAC, OGG, and more. An addition to this is the SRS surround-sound technology and a built-in equalizer.
Design
Incredible S boards a 4-inch S-LCD display with overall dimensions 120 x 64 x 11.7mm and 135.5g weight. What this means is Incredible S is a no compact phone and if you expect it to fit easily in your pocket, you're mistaken. It comes with a soft-touch finish and tapered edges, which make it easier to hold in hand. The LCD comes with the resolution of 480×800 and a color-depth of 16 million colors, which gives it a bright and vivid display. There is a 1.3-megapixel camera in the front to help you stay connected on Skype. The left side has a micro-USB slot and a volume rocker, which also serves the zoom function for camera. The 3.5 mm audio socket is located on top alongside the power/screen lock button. The 8 MP camera is located in the rear with the dual LED flash and the microSD slot is located under the panel. Overall, Incredible S can boast of its minimalist looks.
Bottomline
Incredible S offers great features at an affordable price. It has an excellent Super LCD and you won't miss much with the 1GHz single-core processor. It has a snappy user interface, which is further enhanced by HTC sense. The phone offers good browsing and multimedia features thanks to impeccable hardware that couples nicely with an advanced set of features. In short, Incredible S offers you high-end features at a compromising price.