With the HTC EVO 3D smartphone, the much vouched 3D technology has finally reached to our hands. It features a big 4.3-inch highly reflective screen. There is also a 2D-3D switch which allows shooting in both modes with a built-in dual 5MP camera in the phone. The one of a kind smartphone from HTC is more of a successor to the celebrated HTC EVO 4G smartphone which was released earlier. As such, it shares similar foundations with its earlier avatar and still manages to generate some attention with its 3D capability. However, it is still a mobile device which needs to be examined on parameters that are basic to anything that can be said to be a phone. This article discusses all such issues in following paragraphs.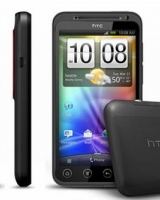 Performance
When compared to the more recent LG Optimus 3D, the HTC EVO 3D fares worse than expected in terms of 3D functionality. For example, it affects work within restrictions said above. However, the LG phone comes with many preinstalled apps, which can use 3D screen. Interestingly, the 2D performance outplaces the 3D functioning of HTC EVO 3D. The operating system and the applications perform efficiently. The double 5MP cameras, which can take large 2D images and stereoscopic 3D photos up to 2 MP, are again poorer than the LG Optimus 3D. Also, the 3D photos taken by EVO 3D have been found to have some flaws. The 1.2 GHz CPU keeps this smartphone fast while dealing with applications and battery life is better than the previous HTC Sensation smartphone. 
Features
The HTC EVO 3D features a Android 2.3.4 Gingerbread operating system that works along with the HTC Sense 3.0 user interface which has been changed a bit to suit the 3D phone. It now comes with six lockscreens preset which can be accessed from the personalized menu. The display includes a stereoscopic LCD screen based on parralax-barrier technology. It helps in giving a 3D feel to images by displaying glasses free stereoscopic images. However, this technology works only in the landscape mode, the 3D camera apps, and with the gallery of this smartphone. Also, the large display allows to comfortably complete tasks like typing, multimedia-viewing, web browsing, etc.
Design
The HTC EVO 3D comes with some improvements over the earlier HTC EVO 4G in terms of design. While the main body is made of plastic, the 4.3-inch touch screen display has an imposing presence. The smartphone is thinner and less bulky than the previous model. Also, the EVO 3D provides a better grip with its soft touch matte. It has an overall attractive appearance.
Bottomline
It is advisable to consider a few times before you really go for a purchase. The performance of this 3D phone cannot be said to be as excellent as required. It is a bit better than the HTC Sensation and a bit bad than the LG Optimus 3D. And unless you are too much impressed with the talks about 3D displays or hooked to HTC smartphones, there are far better options you can avail by giving out anything near Rs 30,000. The ultimate choice should still be yours.