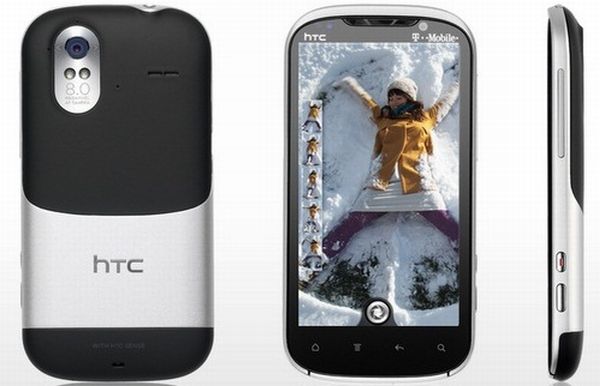 T-mobile launched the new HTC Amaze 4G recently that on first look did appear a lot similar to the HTC Sensation 4G. With Galaxy S II already under its kitty, T-mobile does seem to win the race for the best offers in the market. Despite its similarity to the HTC Sensation 4G, HTC Amaze 4G combines the style of the former one and blends it well with impressive technology upgrades that takes the smartphone experience to a whole new level.
Its 4.3 inch Super LCD Capacitive touchscreen display supports Quarter High Definition with a resolution of 540×940 pixel. HTC Amaze 4G runs on Android Gingerbread 2.3.4 and a 1.5 Ghz dual core Qualcomm Snapdragon processor makes the HTC Amaze one of the fastest smartphones. HTC Amaze 4G also comes with an upgraded RAM of 1 GB and an internal storage capacity of 16 GB. After Galaxy S II, HTC Amaze will be second phone to run on T-mobile's HSPA+42 network.
Pricing and availability
The HTC Amaze 4G would be available in stores from October 12 at a price of $259.99 along with a two year T-mobile contract. But T-mobile claimed that they would start taking online orders through their official website from October 10 itself.
What's great
HTC Amaze is loaded with some really great features. The brilliant 8 Mp camera allows you to take HD video and the front 2 MP camera is lets you send live high quality videos while conferencing. T-mobiles HSPA+42 is the fastest network available and a maximum download speed of 42 Mbps could be achieved. Only Samsung Galaxy S II that was released earlier was capable of using this high speed network.
16 GB of internal memory would make sure you have all your songs, videos and movies within your handset ready to be accessed anytime and anywhere. You get a faster HTC, the previous one – HTC sensation had a 1.2 Ghz processor compared to the HTC Amaze 4G that has a dual core 1.5 GHz processor.
Connectivity would not be a problem at all for HTC Amaze 4G users. HTC Amaze uses Bluetooth 3.0 and is also capable of NFC connectivity so that paying for things would be easier than ever. Micro USB HDMI connection lets you share the high quality videos to your High definition Television.
Inbuilt Applications like Facebook, Twitter lets you stay in touch with friends and family even while travelling and Picasa, Youtube lets you share the pics and videos directly from you HTC Amaze. And with the speed of 42 Mbps, things would get much faster than you think.
What's not so great
Well, it is difficult to say what is not so great in a phone that has almost everything. One thing that we can say is not the latest one in the HTC Amaze is the Gingerbread OS. It currently uses 2.3.4 where as the latest one is the 2.3.5.
Things to watch out for
HTC amaze brings in the concept of SmartShot as a feature that allows you to take five quick shots which the phone blends together into a single photo that has the features of all the five shots incorporated together in a single pic. If that's not enough HTC Amaze also has, what it calls Perfect Pics, that analyzes your gallery and brings the perfect pics from that together into a single album. And to make sure that you don't get bored, it also refreshes the album every week automatically. This feature would be useful to only those who would be busy clicking away picture of whatever they find.
Dedicated buttons are available for the HD camcorder and the normal 8 MP camera to make sure that you do not lose any time in capturing some of the best moments of life.
Verdict
HTC Amaze 4G is a good choice considering that a mobile with so many great features is being priced at just $250 despite that being almost $30 costlier than Galaxy S II that has almost similar features. A brilliant display, well designed panel, a well built camera and the fastest network, HTC Amaze is definitely one of the best high end smartphones available in the market.