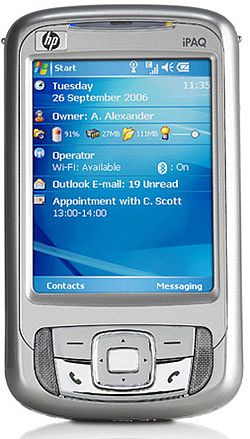 After the release of the GPS enabled iPAQ rx5915, HP has now unveiled its new tri-band GSM/GPRS/EDGE phone named iPAQ rw6815 that is compatible with the Pocket PC version developed for phones rather than the smartphones.
Power-driven by Windows Mobile 5, 64 MB of RAM and a 416 MHz Intel processor, the iPAQ rw6815 measures just 4.0 x 2.3 x 0.75 inches as its doesn't feature any built-in keyboard or a number pad. The users can do the same with its 2.7′ touchscreen.
Other key specs of the phone are a web browser, E-mail applications, 128MB of storage with the tag "certified up to 1 GB", WiFi 802.11b, Bluetooth 1.2 and a 2-megapixel camera.
Well, the iPAQ rw6815 Pocket PC phone will be available in Europe only. It means the Americans won't be able to lay their hands on the phone. HP website has tagged it with a price of 317 Pounds (excluding VAT).
Via: Brighthand