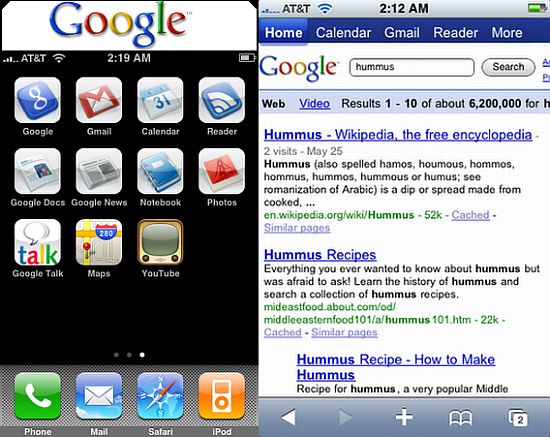 Following the launch of the 'Google Mobile App' for the new iPhone and iPod Touch more than a week ago, the search engine giant, Google, has updated the app making 'Google Mobile App' available in the U.S. Apple App Store. The new Google.com for the iPhone browser now loads twice as fast as before over 3G and Wi-Fi as well as EDGE. With an optimized page for fast searching, the app still provides easy access to other Google applications including Gmail, Calendar, Reader, and many others under the More tab.

The user interface has also been improved so that there's more room on the page for search results. When you click on the search result, the targeted web site now opens up in the same browser window where the search was conducted and you can also access any of the application tabs directly by adding them to your iPhone Home Screen.
The new version of 'Google.com' is compatible with the new 3G iPhone along with the original iPhone and iPod and can be accessed by logging onto www.google.com/m/a/your-domain.com.
Source: Startup Meme