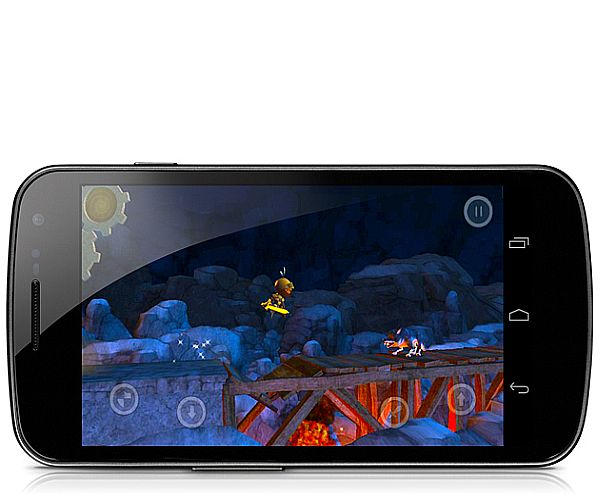 First look
Since Google's official announcement on its fourth generation of operating system 'Ice Cream Sandwich,' consumers and developers worldwide have been eagerly hanging onto their hats for the flagship device that would run this highly-awaited storied piece of code. After divulging a few tidbits over the ICS back at its I/O developer conference in March, the company joined hands with Samsung and unleashed the Galaxy Nexus – touted to be the next major Android smartphone release. Based on the latest Android 4.0 OS, the flagship device combines simplicity and beauty in true sense and swears up and down to revamp the user experience thoroughly.
What's new?
The newest Samsung Galaxy Nexus catches attention for integrating the incredibly promising Ice Cream Sandwich OS which brings an entirely new look and feel to Android. By playing on Samsung's new handset, performance seekers can seamlessly view multiple open pages, enter incognito mode for private browsing and swipe to get rid of those you're finished with. Unlike any previous Nexus variant, Galaxy Nexus features a huge 4.65-inch Super AMOLED capacitive touchscreen that renders resolution of 720 x 1280 pixels. Embedded with Oleophobic surface and multi-touch input method, the touchscreen enhances the interaction via 3-axis gyro sensor, touch-sensitive controls, accelerometer sensor for UI auto-rotate and proximity sensor for auto turn-off.
What's been refreshed?
Designed to be massive while maintaining fine glass construction, the smartphone replaces physical buttons with new virtual buttons that are unobtrusive. Anchored nattily towards the display's bottom surface, users can facilely tilt their piece into landscape mode to capture a perfect picture. The user interface receives a makeover too – stuffed with metallic grays, cool blues and swishy animated effects. At the same time, Galaxy Nexus smartly swaps 'lists of texts with icons' by bold text and big pictures – pretty much how you'd see in a magazine. To perk up the experience, the boring button presses have been replaced by fun-looking, attractive consistent gestures.
Features walkthrough
Sporting a stylish, exquisite appearance, Samsung Galaxy Nexus comes powered by 1.2GHz dual-core Cortex-A9 processor and 1GB RAM for users who have loads to stockpile. With Android 4.0 as the highlight, the smartphone allows users to interact with their favorite applications right from their homescreen. There's a dedicated recent apps button that lets you switch between apps pretty quickly while viewing notifications through rich graphics and controls become a cinch.
Enclosed in sheer elegance, the astoundingly talented Galaxy Nexus also takes care of your soft corner for cherishing good times. The device has been infused with a high end 5 megapixel auto-focus camera and 1.3 megapixel secondary camera. You can click great quality images and record 1080p high definition videos at 30fps, nonetheless touch focus, face detection and geo-tagging are some other attributes that are plunked down quite neatly.
As far as keeping your social life on toes is concerned, the mobile device lends support to social networking sites, Picasa, Google Talk, Gmail, Maps, Google Search, YouTube and others. Some other facets that earn the handset more brownie points comprise a standard 1750mAh Li-ion battery, Adobe Flash support, active noise cancellation with dedicated mic, NFC support, MP3 player, MP4 player, digital compass, Bluetooth, Wi-Fi and GPS with A-GPS support.
What's good?
As aforementioned, the smartphone gains a lot through a potent assimilation of great features, with ICS being one of them. We appreciate the smooth multi-tasking, vibrant widgets galore and the ability to synchronize Google Chrome bookmarks with so much of ease. The embedded camera too offers a good performance standard. However, the intuitive and extremely responsive touchscreen makes everything a cake walk. Samsung has brought in several improvements to auto-correction and touch recognition to render a natural keyboard feel. Right from surfing the web with blazing fast speed to listening to music and watching high definition videos to swiping through the user-friendly UI, the smartphone scores pretty well.
What's not so good?
Although Samsung Galaxy Nexus has been making waves for all the right reasons, the flagship phone may somewhere disappoint users with no support for any memory card slot. The device also misses on housing any infrared port – adding to the inconvenience factor. Users may even think about its 5 megapixel camera as being slightly laggard considering other smartphones that have cutting the throat today for their outstanding 8 megapixel camera.
Price and availability
The pricing and availability details for Samsung Galaxy Nexus are yet to be disclosed.
Wrap-up
Samsung Galaxy Nexus certainly looks promising and is anticipated to outweigh many on the market. However, we are not sure if the integration of Ice Cream Sandwich will put the smartphone ahead of Apple's master devices. Let's just wait and watch.