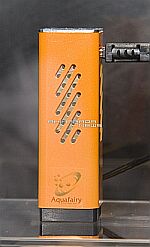 Wow! At last, there is some good alternate to the battery chargers if it proves what it claims. AquaFairy has developed a small natty Fuel Cell External Battery Charger that could charge a cell phone battery three times before being refilled again.
The awesome feature of this fuel cell charger is that you would be able to charge other electronic goods like PDAs.
Expected to hit Japanese market in the beginning of 2007.
Via: Akihabara