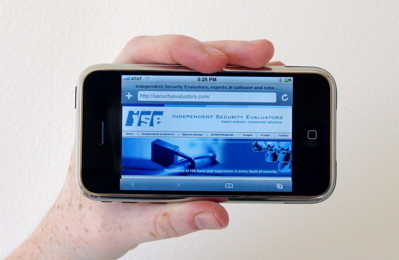 'Independent Security Evaluators' boast of having breached iPhone's topmost security codes. They have managed to control the equipment over a dedicated WiFi connection! Researchers at 'Apple' must be confused on this finding as such a high-level security flaw may affect the sales of 'iPhone'.
Apple seems to be leaving no stone unturned to manage this security breach.
John Schwartz reports in Monday's New York Times:
[ISE's Charles A.] Miller, a former employee of the National Security Agency who has a doctorate in computer science, demonstrated the hack to a reporter by using his iPhone's Web browser to visit a Web site of his own design.

Once he was there, the site injected a bit of code into the iPhone that then took over the phone. The phone promptly followed instructions to transmit a set of files to the attacking computer that included recent text messages – including one that had been sent to the reporter's cellphone moments before – as well as telephone contacts and e-mail addresses.

'We can get any file we want,' he said. Potentially, he added, the attack could be used to program the phone to make calls, running up large bills or even turning it into a portable bugging device.

ISE founder Aviel D.] Rubin said, 'I will think twice before getting on a random public WiFi network now,' but his overall opinion of the phone has not changed. 'You'd have to pry it out of my cold, dead hands to get it away from me,' he said.
Via: Boingboing