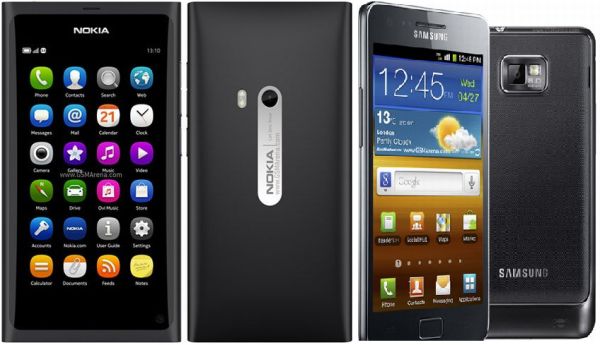 Nokia and Samsung are both trusted names when it comes to mobile phones. These two companies are strong competitors and hence they always make a serious effort of introducing something better than the other one's in the mobile market. Now Nokia has introduced N9 and Samsung Galaxy S2. Let's find out who wins the race this time and who is a little left behind in the competition.
The challenge
Both Nokia's N9 and Samsung's Galaxy S2 are meant for the tech-savvy niche audience. Hence, the expectations from these phones are higher and they have to prove their mettle with extreme good performance. The challenge here, however, is to correct the flaws that the high-end phones of these brands earlier had and thus come out flawless. Chances are that even if one of these two mobiles wins this race leaving the other one a little behind, we still would not be disappointed by either of these handsets.
Operating system
Nokia's N9 is the first phone that is running on MeeGo 1.2 Harmattan system. MeeGo is Nokia's own Linux based operating system. This operating system has a lot of potential but its future depends entirely on the receptiveness of app developers. For users, MeeGo Harmattan can prove to be quite interesting but only after they get a hold on the operating system.
Samsung's Galaxy S2 runs on Android OS 2.3 Gingerbread which is the latest operating system from Google. This operating system has surely left behind all other currently available operating systems that mobile phones run on. Android as an operating system has already established its own strong place and with this updated version things are even better than before.
Display
The display of Nokia N9 is a 3.9 inch AMOLED capacitive touchscreen. Other display features of this phone are 16M colors, Gorilla glass, anti-glare polariser coating, accelerator sensor and a high resolution of 480 x 854 pixels.
Samsung Galaxy S2 however boasts of Super AMOLED Plus capacitive touchscreen which is superior to the AMOLED technology used in N9. Apart from that, there are 16M colors, Gorilla glass, a 480 x 800 pixel resolution, accelerator sensor, etc. However the higher resolution and pixel density of Nokia N9 does make the picture quality seem more bright and sharp.
Camera
Nokia N9 has an 8 MP camera of Carl Zeiss production. Along with a resolution of 3264 x 2448 pixels N9 also has autofocus, dual LED flash, and certain other interesting features along with a secondary camera.
Samsung Galaxy S2 also has a 8 MP camera with 3264 x 2448 pixels resolution, autofocus LED flash, secondary camera and more or less similar camera related features to N9. Both the sets offer quite a good deal in terms of camera features and there's not much variation or difference that you can expect to find in these two particular mobiles.
Memory
Nokia's N9 has a huge internal storage capacity that comes in two variations of 16GB and 64GB. A 1GB RAM is present for backing up processing power. But there is no card slot in this handset and mostly no one is going to miss that external memory card slot as the internal memory itself is so huge. The internal memory should itself be more than sufficient for its users.
Samsung Galaxy S2 too comes in two internal memory ranges; one of 16GB and one of 32GB. This phone too has a 1GB RAM. Along with that, there is a micro SD card slot of up to 32GB in this handset. This phone comes with a memory card of 8GB.
Battery life
Nokia N9 has a standard battery which is a li-ion 1450 mAh (BV-5JW). This phone can last 4.5 hrs of video, 50 hrs of music and a standby of 10 hours.
Samsung Galaxy S2 has a standard battery; a little enhanced li-ion 1650 mAh. Samsung Galaxy S2 can support 8.2 hrs of talk time and has a standby of 430 hrs.
Winner
Samsung's Galaxy S2 is the winner.
The verdict

Both the phones, Nokia's N9 and Samsung's Galaxy S2, are real strong competitors. While one is better in display, the other one's operating system is more easily adaptable and reputed. If the internal memory of N9 is better, then Galaxy S2 makes up for it with its card slot. In whole, the two handsets are too close in competition to each other in look and performance. But, if we must declare a winner in this race then the sleek Samsung Galaxy S2 seems to have won it on the edge.