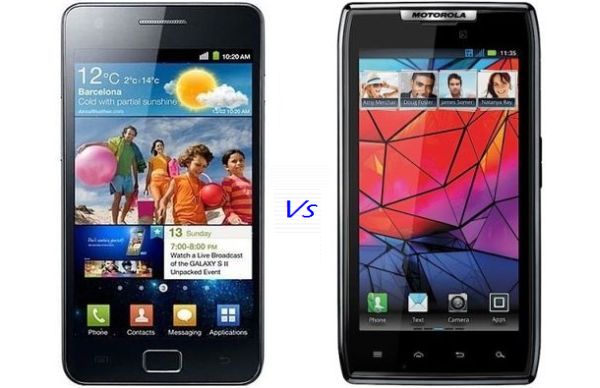 The Challenge
While Android has come up a long way as a mobile operating system, the hardware that support Android are not staying idle either. Long gone are the days when measly single core based processors with clock speeds lower than 500 MHz and 256MB of RAM ruled the smartphone arena. 2011 saw the release of a number of very powerful smartphones from a lot of manufacturers, around the world. These 'superphones' can achieve never seen before performances on mobile devices without breaking a sweat.
While Galaxy S II from Samsung dominated the Android smartphone market for quite some time now, dubbed the best Android smartphone of the year by several media outlets, another mobile phone giant Motorola is not just sitting idle. Reviving their iconic RAZR branding with and infusing Android, Motorola brought us Droid RAZR last week which is supposed to bring cutting edge technology to the Android ecosystem. Both the phones stand strong with their own rights and we are going to take a comparative look at them.
Comparison Criteria
1. Screen Size
Newly announced Motorola Droid RAZR sports a 4.3" Super AMOLED Advanced screen with a layer of Corning Gorilla Glass on top of it. The display has a resolution of qHD or 960 x 540 and thus features a PPI of 256 which is pretty impressive, considering the phone has an AMOLED display. On the other hand, Samsung used a 4.3" Super AMOLED Plus screen on their Galaxy S II handset which is also protected by Corning Gorilla Glass and has a WVGA resolution of 800 x 480 pixels which effectively turns out with a PPI of 217. Both the display use all RGB subpixels to render images on the screen, unlike the cheaper and considerably poor performing PenTile displays which is a definite plus point.
Winner: Motorola Droid RAZR wins here by a good margin. In terms of contrast ratio and color reproduction, both the screens are nearly identical and give equally balanced performances. But Droid RAZR beats Galaxy S II in terms of sheer pixel density and thus resulting relatively higher clarity on screen.
2. Software
Samsung Galaxy S II, being announced in the beginning of 2011, comes with Android Gingerbread 2.3 on board. Samsung did not use the stock version of Gingerbread though; instead they pitched their own TouchWiz 4 enabled version in. While TouchWiz 4 is not as good as HTC Sense 3.5 in terms of usability and customizability, it is not doubt the second best manufacture customization out there just after HTC. It is lean and clean and does not get into the ways of user. But in case of Droid RAZR, Motorola used their customized version of Android Gingerbread which is running a UI named MotoBlur. While MotoBlur does not have a good number of fans out there, it is not extremely unusable.
Winner: Samsung's TouchWiz wins hands down here. Surely, Motorola has come a long way from the original annoying MotoBlur but it is not just that good. On the contrary, their Droid X software was pretty good and beautiful which was not based on MotoBlur. Sadly they did not opt for that in Droid RAZR. While both the phones are going to get Android Ice Cream Sandwich early next year, it still remains to be seen who takes the crown at that time.
3. Price
Samsung made smart pricing choices with their Galaxy S II, subsidizing at the rate of $200 with a two year contract with most of the carriers. On the other hand, Motorola announced a price of $300 with two years contract subsidy.
Winner: Obviously, the winner is Samsung Galaxy S II. It has been observed that the holy grail of smartphone pricing is near the magic range of $200 which was initially fixed by iPhone and it is still going strong. Though very costly, even the latest iPhone 4S comes at a price of $199 with two year contract. Motorola just went through the roof at this point. We are yet to see the price of unlocked Droid RAZR though.
4. Camera
Interestingly enough, both the handsets also shares almost identical cameras. Samsung Galaxy S II features an 8 MP primary camera with an f/2.4 lens and it shoots full HD 1080p videos. On the other hand, Motorola Droid RAZR also features an 8 MP camera with f/2.3 lens that can also shoot full HD 1080p videos without a hitch.
Winner: There is no clear winner in this one as both of the cameras are nearly identical and gives same levels of performances in real world tests. Although my personal preference is Galaxy S II as it also features a 2 MP front facing camera while the Droid RAZR only has a 1.3 MP on board but that is not going to declare a definitive winner here.
5. Target Audience
Both the phones rest at the top tier of Android smartphones are primarily aimed at serious smartphone users who are looking for the best from their Android devices. Though there is a definite time difference between the launch of these two handsets, their targeted audience did not change a little.
The Verdict: Winner
This time we have a very close competition here. Both the behemoths from Samsung and Motorola are finest pieces of engineering available today and shows extreme potentials. They perform similarly in different tasks like browsing the web, camera, 3D gaming, network performance etc which makes it really hard to decide on one. So it is up to the end users to decide on one. If you are looking for the latest and greatest, and something that has lots of hoopla around it, you can certainly go for Motorola Droid RAZR. But if you are looking for a very well balanced phone that performs extremely well and even months after initial release showing no signs of decline in front of any other smartphone out there, then Samsung Galaxy S II is all for you.