Indian smartphone market is flooded with a number of brands; international manufacturers including Blackberry, Samsung, Nokia and Indian names such as Lava, Micromax and Karbonn. Lava is the latest entrant into the smartphone arena and it has launched India's first Android phone with Intel processor, dubbed as XOLO X900. This is the reason why the model has received extensive media coverage. In this post, Lava XOLO will be competing with an entry-level phone Blackberry Curve 9220 that comes with latest Blackberry OS 7.1. We will bring a detailed comparison between these two to see who wins and how.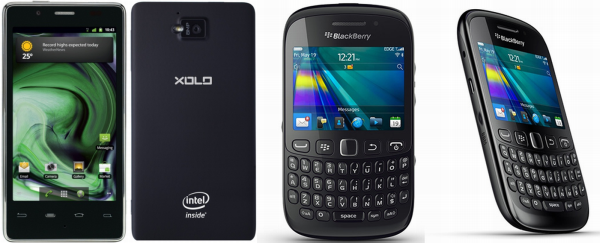 Round one: Operating system and processor
Lava XOLO X900: The phone runs on Android 2.3 Gingerbread and Android 4.0 Ice Cream Sandwich is expected in future while it is powered by Intel Atom 1.6GHz chip with Hyper Threading Technology that allows the chip to simulate dual cores for an impressive performance without killing the battery power. With or without update, the phone and its interface run smoothly. You will not be able to notice even a hint of lag, everything from 3D games to full HD video goes flawless.
Blackberry Curve 9220: Running on Blackberry OS 7.1, the handset is powered by a modest 800 MHz processor. It performs nice and fast once it is new, but once you use it for few months and collect some data, it becomes sluggish. Overall, the new OS is far better than the previous editions.
Winner: Lava Xolo 900
Round Two: Camera
Lava XOLO X900: One of the most talked about features of the handset is its 8-megapixel camera with LED flash, 16x Digital Zoom and video recording. It can take ten snaps in a second running on burst mode at a resolution of 1600×1200 pixels while the video recorder captures 1920×1080 (1080p HD) videos. The phone also boasts a front camera of 1.3-megapixel that supports 480p video recording. Other features include geotagging, automatic motion blur reduction, touch focus and face detection.
Blackberry Curve 9220: This phone comes with 2-megapixel rear camera with video recording facility and 5x digital zoom. The camera fails in low light conditions and camera is capable of shooting only VGA videos. Worst part, it does not have a flash.
Winner: Lava Xolo 900
Round Three: Storage
Lava XOLO X900: The device has 1 GB RAM ( 32-bit Dual channel LPDDR2) that ensures impressive performance as well as fast web browsing, internal storage capacity of 16GB and micro SD card support up to 32 GB.
Blackberry Curve 9220: It has 512 MB RAM, 512 MB of internal memory and 32 GB of external storage.
Winner: Lava XOLO X900
Round four: Web Browsing
Lava XOLO X900: It has an internal browser that supports HTML5, HTML and flash. Internal web based applications include Picasa and You Tube.
Blackberry Curve 9220: The handset has a HTML based Webkit browser that offers fast browsing and multiple tabs. It keeps you connected with several built in networking apps including Facebook and Twitter.
Winner: Lava Xolo 900
Round five: Entertainment
Lava XOLO X900: It has audio/video player with background playback feature and album art cover. The phone has a dual speaker that produces excellent audio. It has the ability to play videos continuously for six hours
Blackberry Curve 9220: There is a built in FM radio in the device. Media player has a stunning sharp sound, deep bass and supports MP3, MP4, FLAC, H.264, H.263, WAV, WMV audio/video files. It has a 3.5 mm audio jack that allows you to use all the standard headphones and speakers.
Winner: Blackberry 9220
Round Six: Display
Lava XOLO X900: In a 4.03-inch touch screen display, it packs a resolution of 1024×600 pixels (295 ppi). It is super responsive, has a superior build quality and works really well.
Blackberry Curve 9220: It has a 2.44-inch TFT LCD display with a resolution of 320×240 pixels, which offers satisfactory brightness and fine colours.
Winner: Lava Xolo 900
The Verdict
Lava XOLO X900 ships with Android 2.2 but update to Android 4.0 is due while Blackberry 9220 is already available with latest Blackberry OS. If we leave the operating system, X900 has the better specifications, fast Intel processor, better camera and so on. Blackberry has all the entry-level features including 2 MP camera and average processor, but at Rs. 10, 990 it is priced very less than X900, which is available at Rs. 22, 000. Therefore, people who want to experience all the advanced features will buy X900 while users looking to experience the QWERTY keypad and latest Blackberry OS at an affordable cost will choose Blackberry Curve 9220 .