Elecom is a well known computer peripherals manufacturer in Japan, which is quite famous for suggesting innovative gadget designs. We were really impressed last time by its laser projection keyboard. This time they have come up with a device that serves as a phone and a physical keyboard, both at the same time. Named as TK-MBDD041, the gadget uses Bluetooth to communicate with other Bluetooth enabled devices that includes your PC, Mac, tablet and phones.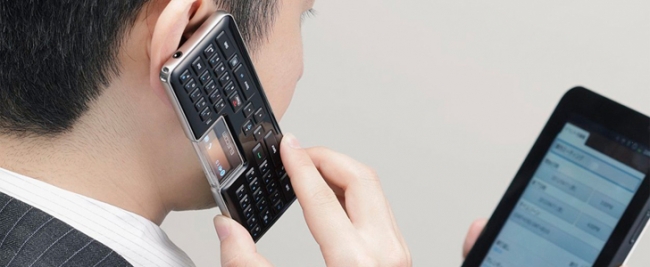 When used as a phone, it houses the keyboard in the rear, while the front has a display that will let you know who is making the call. It doesn't offer any high-end functionalities as a phone, but more of as a replacement for your phone in case it is more important to carry a mini-sized keyboard in your bag. The device is most suitable to be used with tablets especially when you're using it to surf over the web or chatting online with your friends. While the touchscreen keyboards have evolved with time, there is still a large audience that prefers physical keyboards owing to its accuracy. MBDD041 is bound to find its potential customers in such audience.
What lies more inside it is a rechargeable battery and a vibrator unit. It is compatible with the Android as well as iOS platforms and costs a whopping $230. Though it will be currently available only in Japan.
Via: Akihabaranews