Having a cellphone is one of the basic necessities of the modern life. However, using cellphone facilities like sending and receiving texts are still not useful for those who cannot read or write. To make texting possible for the illiterate population, a new cellphone app called EasySMS can open up a world of possibilities. Created for Windows 7 Phones by students at Switzerland's Ecole Polytechnique Fédérale de Lausanne, the app translates visual symbols into replies in text and reads out received or written text messages via text-to-speech technology.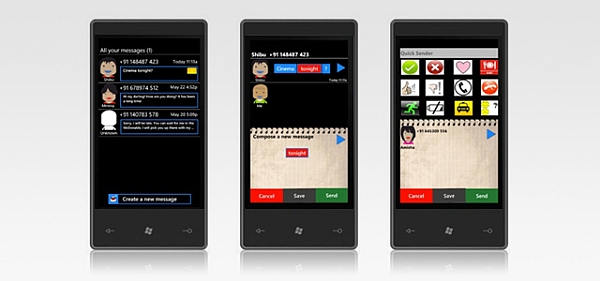 When reading received texts, the app displays an interactive button for each word in a sentence broken down into words. Users can thus click on single words and hear them in a synthesized voice or have the whole text read out to them. Individual words can then be dragged and framed into a reply while other words can be filled in using visual symbols from the app's dictionary.
The EasySMS app also simplifies other texts in the phone like the contact list for people who cannot read. The app allows people to create and save avatars for each person in the phonebook by offering a range of facial features. The team behind the app says that there are over 800 million illiterate people in the world a vast majority of whom have the financial capacity to own a cellphone but are not able to access text-based features of their phones due to their inability to read and write. One of the finalists of the Imagine Cup 2011 organized by Microsoft, the EasySMS is still under development.
Via: Spring Wise