Junketing by the route of air to some favorite destination may indeed turn horrific if you have to go through an awful tale of having your luggage mishandled. Even worse, if your packed bags get lost during the flight. However, air travelers who need to frequently tour can now put their feet up. After the introduction of Delta Air Lines' online tracking system back in this year, the Atlanta-based carrier has now released the feature for its Delta Mobile Application.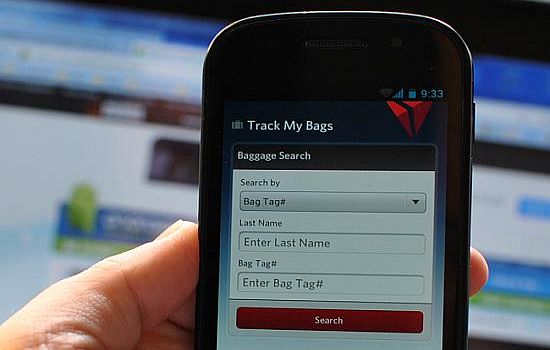 Designed to provide a hassle-free user experience, the highly functional app from Delta enables users to conveniently keep a tab on their luggage while traveling. By taking advantage of the latest baggage tracking feature, iPhone, Android and Windows Phone users can certainly bring great convenience to their travel experience. Besides providing control to the user, the app not functions for domestic as well as for international flights.
Bob Kupbens, Delta's vice president – eCommerce, says,
Delta's baggage tracking feature on our mobile apps is part of our ongoing investment in technology to bring greater convenience to the travel experience. We've added features that help put our customer's minds at ease, simplify their journey and put them in control.
Users can even benefit from the Delta app even when they are in-flight – owing to Gogo's Inflight Internet service which offers free access to the official site of Delta or the Delta app. Apart from all this, the software allows passengers to seamlessly check-in through their mobile devices and glance through the upgrades and stand-by lists. Accessing to airport maps and aircraft information gets simpler too.
With the potent capability to transmogrify your smartphone into a powerful tool to keep you on the go, the feature-rich Delta app ensures the user stays updated throughout their journey. Users can have information pertaining to their seat changes and alerts on the latest flight. At the same time, the solution makes it simpler to acquire alerts on the gate information and standby lists, as mentioned earlier.
Almost like having a Red Coat in the palm of your hand, the mobile app indeed cinches everything for you – right from realizing their luggage's whereabouts in real-time to getting to know which baggage carousel has the user's bags at the end of a flight. Not only this, it even allows one to choose another flight from a list of suggested itineraries and share their new flight details with friends and families.
The whole experience of using the app gets better with the integrated ability to rebook canceled flights, change new flights, and receive important flight details. Searching for alternates, including flights into alternate airports has been enabled as well. Interestingly, users will be further be able to check the weather, download mobile boarding passes, and save a photo and note their parking spot.
The new Delta Mobile App for iPhone, BlackBerry and Windows is now available for download for absolutely free from their respective App Stores.
Via: TechSpot