Known earlier as Dell Thunder, Dell Venue is a smartphone packed with some of the best in class features. Along with sophisticated multimedia options, this device engulfs a stupendous processor and a chipset as well. Right from its ginormous touchscreen to high resolution camera, the handset defines generosity from a new vantage point. Literally, Dell Venue brims with sumptuous features that any contemporary buyer would wish to have in his/her handset. Its affordable price tag is advantageous. Uncover this handset's packaging brilliance and the reason for why you may opt to buy this handset amongst other competitors.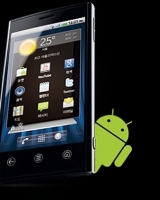 Performance
Inclusion of contemporary technologies for browsing internet delivers a rich surfing experience. Presence of document viewer, document editor, push-mail and other business features bring a workplace's ambiance at the comfort of this handset. As expected, its 1 GHz process is amazingly faster and instantaneous as well. However, the device compromises on its operating system with an old fangled version. Enjoying music is quite joyous both through the wired headsets as well through its loudspeaker.
Features
Everybody would get excited on viewing Dell Venue's enormous touchscreen, which is destined to captivate on the first glance itself. Technically, the handset possesses a 4.1 inches AMOLED capacitive touchscreen that could vividly display 16 millions shades of vibrant colors. This touchscreen could show information in the resolution of 480 x 800 pixels. Featuring a multi-touch option, this screen is protected by a Corning Gorilla glass. The handset runs on Android's Operating System, version 2.2 (Froyo). Equipped with a 1GHz Qualcomm processor, this device allows you to work faster than other conventional mobile phones.
Venue delivers a rich browsing experience as the handset is compatible with sophisticated technologies like GPRS, EDGE, 3G, WAP and WiFi. Its HTML browsers are compatible with Flash technology, which helps users to enjoy multimedia features, effortlessly. To add comfort, the device encompasses primary sensors such as accelerometer, proximity sensor and compass. On the multimedia side, its 8 MP primary camera attracts attention instantly. Accompanied by a LED flashlight and auto-focus system, this camera could capture life's beautiful moments in the resolution of 3264 x 2448 pixels, which is sufficient to make prints as well. Inclusion of Geo-tagging and face-detection features, deliver a joyous imaging experience. This primary camera has the capacity to record motion images as well, in the resolution of 1280 x 720 pixels at 20 fps.
Powered by a standard Lithium-Ion battery, Dell Venue has an inbuilt memory of 1000 MB and a RAM capacity of 512 MB. Fortunately, this handset includes an Assisted GPS feature for easy navigation on the uncertain roads. Regarding the connectivity options, inclusion of Bluetooth and micro USB features allow rapid exchange of data with various devices through wireless and wired mediums, respectively. Other features like music player, video player, 3.5 mm audio port, loudspeaker, document package, etc., are customary on this device.
Design
Dell Venue features a typical box-shaped design with nippy corners. The handset's design may not be appealing on the first glance; but, as you use it, undeniably you will like it. The 4.1 inches touchscreen covers the entire area on the front face leaving sufficient space for the common touch buttons. Accentuated with chrome edges, the volume rocker control and a dedicated camera key could be identified on the right face. As conventional, the primary camera takes position on the rear panel, while the LED flash lights sits beneath it. The speaker and micro USB port are embossed on the bottom face while the standard 3.5 mm audio port is designed on the upper face. Dell Venue offers exceptional grip with its textured plastic material. Measuring 64 x 121 x 12.9 mm in dimensions, this handset weighs 164 grams, which represents its bulkiness. To everybody's surprise, this device flaunts a switch for its silent mode on the left face. Unfortunately, the microSD slot is designed inside the battery cover.
Bottomline
Dell Venue is a good choice for the users who intend to buy smartphones. Though the lack of front-facing secondary camera and latest Android version makes this handset less futuristic, Dell Venue offers sumptuous features with an amazing processor and deliberate applications. For users who aren't concerned about modernization, this device is a undeniably a good bargain for its price.