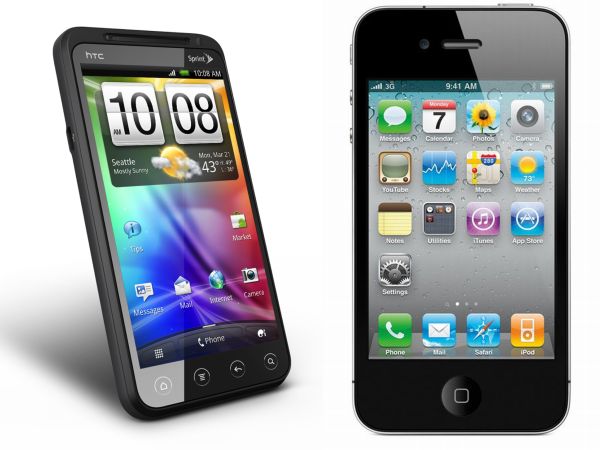 The challenge
HTC Evo 3D and Apple iPhone 4S are two high-end smartphones with special camera features that will excite photography fans. HTC Evo 3D that was unveiled in July 201 is the first smartphone with a glasses-free 3D display. The device has dual 5-megpixel cameras in the rear panel for 3D video and image capturing. Apple iPhone 4S, on other hand, is one of the first smartphones with an 8-megpixel rear camera that has 1080p HD video capture capability. Here we bring you a comprehensive comparison between HTC Evo 3D and iPhone 4S, two leading smartphones on Android and iOS platforms.
Comparison attributes
Design
HTC Evo 3D is pretty bulkier than iPhone 4S both in size and weight due to its dual 3D cameras. The device has the dimensions of 126 x 65 x 12.1 mm and a weight of 170 grams. Meanwhile, iPhone 4S has the dimensions of just 115.2 x 58.6 x 9.3 mm and weight of just 137 grams.
Winner: Apple iPhone 4S
Display
Evo 3D sports a 4.3-inch 3D LCD capacitive touchscreen with a resolution of 960 x 640 pixels. It offers multi-touch input method, touch-sensitive controls, accelerometer, proximity sensor and gyro sensor.
In fact, what makes HTC Evo 3D different from iPhone 4S is that it is a 3D smartphone. On iPhone 4S, we have 3.5-inch 640 x 960 Retina Display. The high resolution display of iPhone 4S makes it a wonderful product, indeed. But it is not a 3D phone as its HTC rival is.
Winner: HTV Evo 3D. It has a glasses-free 3D display.
Operating System
HTC Evo 3D is an Android 2.3 Gingerbread smartphone. Apple iPhone 4S plays on iOS 5, the most advanced iOS update ever. Needless to mention, iOS 5 is better than Android Gingerbread with lots of cutting edge features and capabilities.
Winner: Apple iPhone 4S.
Processor
HTC Evo 3D is powered by a 1.2GHz dual core processor with Qualcomm MSM8660 chipset, 1GB of RAM and Adreno 220 graphics card. Meanwhile, iPhone 4S highlights, as everyone may know, a 1GHz ARM Cortex-A8 processor with the company's well-known A5 chipset. 1GB of RAM and PowerVR SGX540 GPU add into the capability of iPhone 4S.
Winner: Apple iPhone 4S. A4 chipset with 1GHz ARM Cortex-A8 processor performs better.
Memory
Apple has three iPhone 4S models based on onboard memory; 16GB, 32GB and 64GB. Moreover, you have 5GB free space on Apple's new cloud media service iCloud. HTC Evo 3D has 1GB internal storage and microSD that can support memory cards up to 32GB. There is no cloud storage available on Evo 3D.
Winner: Apple iPhone 4S.
Camera
HTC Evo 3D has dual 5-megapixel cameras in the rear panel for 3D capturing. For video chatting, the phone has a 1.3-megapixel front camera. iPhone 4S has an eight megapixel camera with 1080p HD video capability and 2-megapixlel front camera.
Winner: Apple iPhone 4S. The device has better HD camera.
Entertainment
iPhone 4S is with lots of entertainment features than its HTC rival. The new generation iPhone supports file formats like AAC, AAC, HE-AAC, MP3, MP3 VBR, Apple Lossless, AIFF, WAV and others. HTC Evo 3D supports WAV, MP3, WMA, MIDI, AAC and AMR.
Winner: Apple iPhone 4S.
Storage
iPhone 4S has three storage options; 16GB, 32GB and 64GB. It also has cloud support for additional storage. HTC Evo only has 1GB internal memory and 32GB expandable microSD slot.
Winner: Apple iPhone 4S.
Battery
iPhone mounts a Li-ion non-removable battery that promises 14 hours battery life. Evo 3D has a 1730 mAh that has less battery life.
Winner: Apple iPhone 4S.
Connectivity
For connectivity, iPhone 4S has 802.11 b/g/n. n, Wi-Fi hotspot, Bluetooth 4.0 and USB port. On HTC Evo, we have Wi-Fi 802.11 b/g/n, Bluetooth 3.0, USB port and microUSB port.
Winner: Apple iPhone 4S.
Applications
Lots of applications come preinstalled with iPhone 4S. They include Apple Apps Store, iTunes, Facebook, Twitter, Skype, Viber, Tango, QiK, Siri, Face Time, iCloud, AirPrint, AirPlay and Find my iPhone. HTC Evo 3D comes with Android Market, Google Mobile Service, YouTube, Picasa and Facebook.
Winner: Apple iPhone 4S.
Price
Apple iPhone 4S has three prices based on its internal memory options. 16GB is priced at $199, 32GB at $299 and 64GB at $399. HTC Evo 3D has been sold for just $199 with two year contract.
Winner: No winner. Both devices have same price range.
Winner
As far as the above comparison attributes are considered, iPhone 4S is the supreme winner over HTV Evo 3D.
The Verdict
Apple iPhone 4S with iOS 5 is to keep up the supremacy of Apple's flagship phone in global markets. In comparison with most of existing smartphones, iPhone 4S is the ultimate winner. HTC Evo 3D is really one of the first 3D smartphones with glasses-free 3D glass and 3D video capturing. It should be the best choice of consumers, who want a 3D smartphone. But iPhone 4S is again to lead the world with some cutting edge features.