The challenge
Over the last few years, Samsung and HTC have been great players when it comes to smart phones. Today, we will have one such face off where we are gonna compare Samsung Focus S and HTC Titan. Samsung, as we all know, is known for its swanky phones. Samsung Focus S is no exception. It is a brand new phone from AT&T. HTC Titan is known for its size and elegance. Its screen is even bigger than the HTC Sensation. Let us have a look at some of the features of both these phones and where they beat each other.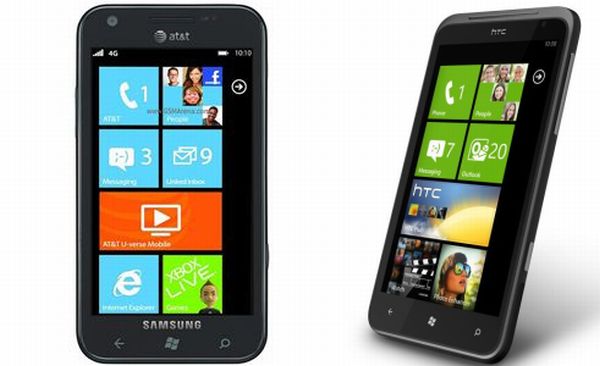 1. Screen size and display
The Samsung Focus S is easily one of the thinnest Windows phone available. It has got a nice roundness to its back and it is extremely light partly because it is all plastic. The plastic is actually very flexible and bendable. It has a 4.3 inch super AMOLED plus screen with a resolution of 480×800. The HTC Titan beats the Focus in terms of screen size. It has a 4.7 inch screen, 800 down by 480 across. It has a ppi density of 198 which is pretty good for such a mammoth screen. The front is dominated by the screen and has a very thin bezel along the side. The display features an S-LCD touchscreen.
Winner: HTC Titan for its screen size and incredibly smooth display.
2. Software
Samsung Focus S is a Windows phone of the AT&T and it has a myriad of applications installed in it. It has an AT&T navigator that has the GPS navigating program, AT&T radio for some streaming music. There is also an application called Now which gives the update about the weather, the stocks and the news feed. Customization can be done in the settings where there are a whole lot of choices available like the high fidelity position and the extra settings. You can customize the extra settings in order to save battery life when you are using a white background. With a processing power of 1.4 GHz, it is pretty decent in the hardware department. Talking about the HTC Titan, it is powered by a 1.5 GHz Qualcomm processor which is pretty fast. It is the mango version which has pre- installed apps like the HTC Hub, HTC You Tube, HTC Watch which makes watching videos really fantastic since the HTC has extraordinarily loud speakers. Gaming can be a treat because of the fast processing speed of this device. Web browsing is also decent on this phone compared to the Focus. The pinch to zoom is also incredible for viewing web pages.
Winner: HTC Titan
3. Price
Samsung sells its new product for $665 which seems to be quite budget friendly, keeping in mind the other smartphones of its cadre. Priced at $830, Titan maybe just a bit too much for its features.
Winner: Samsung Focus S.
4. Camera
Camera in Samsung Focus S is 8 MP with LED flash. It has an image resolution of 3264×2448. It has a lot of options like changing the sharpness, contrast and white balance. The image quality is reasonably good. It also captures 720p HD video which gives an output that is not that great. The HTC Titan has a nice 8 MP camera which produces top quality images. The panoramic view of the images and the burst shot modes give it an edge over the Focus S. It has also general camera features like the dual LED flash and the auto focus. However, there is no support for the DivX videos. The 720p HD video can also be termed as satisfactory.
Winner: HTC Titan.
5. Target audience
In this new era, where there is more focus on the iPhones and Galaxy phones from Samsung, the Samsung Focus S exploits this factual trend since this phones bears a lot of similitude with the Galaxy S2. Thus it has an edge over over other phones in this respect as the S2 has already gained its market. HTC's primary target has been those who vouch for doing everything on a massive screen. It has been promoting its product on AT&T.
Winner: Samsung Focus S.
The verdict
Both these devices are creating a frenzy all over but the Titan has managed to keep its nose ahead. While Samsung Focus S has made every possible effort to beat its counterparts, it still lags behind in some of the aspects compared to the Titan from HTC. Our winner in this face off is the HTC Titan, though you cannot write the Focus S off.