The smartphone market is heating up with the increase in number of options and the quality of applications. It seems a race to trap the world in a cell phone is on. The two phones discussed here are the latest example of this phenomenon. While the one is promising 4G speed for the fastest data transfer via a cell phone, the other comes from a company for whom innovation has become a trademark in last many years.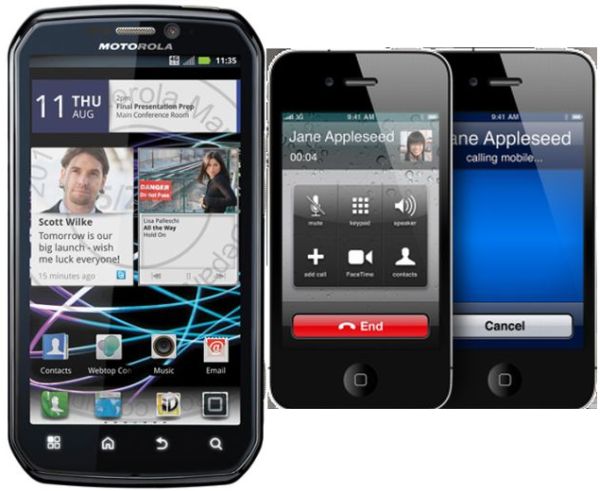 In terms of comparisons, both of them are evenly matched on many features and it would be really difficult to make a choice just by looking at them. Here is the comparison:
Comparison attributes
Processing power
Equipped with 1 GHz Dual core processor, both the smart phones have similar processing powers.
Processor
The iPhone 4S runs on Apple's new iOS 5 processor while the Motorolla Photon 4G has Nvidia Tegra 2 Dual Core processor.
Operating system
Motorola Photon 4G is an Android phone-based on the latest Android 2.3 (Gingerbread). Whereas, iPhone 4S uses Apple's new iOS 5 operating system.

Storage
Both the phones offer 1 GB RAM. While the iPhone 4S has no extra card slot and comes in three variants of 16, 32 and 64 GB memories respectively, the Motorola Photon 4G comes with an 8GB internal storage which can be expanded up to 32 GB with a microSD card.

Web browsing
Apple's iPhone 4S uses Safari for browsing activities and supports JavaScript. Whereas, the Motorolla Photon 4G has a full HTML browser and Adobe Flash Player 10.1 support for a seamless surfing experience.
Music
Neither of the two phones will let you complain for their music players. Apple's iPhone 4S allows to listen music from the iTunes Store. You can play all kinds of music on its MP3 player with the help of a headphone. Motorola Photon 4G also has a good music player supported by MIDI, MP3 etc. Both do not have built-in FM transmitters. Though, you can tune in to FM channels via Internet radio Apps.

Sensors
Both the smartphones are equipped with similar sensors like accelerometer, digital proximity sensor, GPS, ambient light sensor, three-axis gyro sensor for the iPhone 4S and Gyro sensor for the Motorola Photon 4G. In adddition, the Photon 4G also offers a digital compass.
Size
Motorola Photon 4G is heavier and bigger than the iPhone 4S. The former weighs 158 grams and measures 126.9 x 66.9 x 12.2 mm in dimensions. Whereas, the sleek iPhone 4S is 140 g heavy and measures 115.2 x 58.6 x 9.3 mm in dimensions.
Network
Motorola has an edge here as it is 4G-enabled. This allows fastest data transfer through a smartphone. The iPhone 4S supports standard 2G and 3G. Also, its HSPA+14.4Mbps allows average data transfer speeds.

Screen
Motorola Photon 4G offers a larger screen of 4.3-inches with quality HD resolution of 960 x 540. It has a capacitive multi-touch screen with an onscreen virtual QWERTY key board. Whereas, the iPhone 4S is only 3.5-inch in size with virtual QWERTY key board. It offers a similar resolution of 960 x 640 like Photon 4G. In addition, iPhone's screen also includes the finger print resistant oleophobic coating.

Battery
Both the smartphones offer very long battery life. Apple's battery is expected to support up to 14 hours of continuous talk when only the GSM is on and with 3G it lasts for 8 hours of continuous talk. Whereas, the Motorola Photon 4G is expected to last for 10 hours on both 2G and 3G. It supports 9 hours of continuous talk on 4G. However, the iPhone 4G has an edge with a very long stand by of 200 hours.
Photo & video
Motorola Photon 4G features an 8 MP resolution camera which also record full HD videos at 720 p resolution. It also has Face detection and Geo-tagging facilities. In comparison to this, the resolution capacity of iPhone 4S is same at 8.0 MP. It can take full HD videos at 1080p resolution. The iPhone 4S scores an edge with the availability of double microphones and a built-in image stabilization facility.
Additional features
Apple's iPhone 4S offers a first of its kind voice assistant application named as Siri. It can understand your voice and allow you to do almost anything on the phone by just speaking to it. Besides, it offers other applications like iCloud, multiple language support, FaceTime and iMovie. Whereas, the Motorola Photon 4S has been designed to be a World Phone with international GSM capability. It has presently been launched with a Sprint ID

The verdict
Both the smartphones discussed here are unique in themselves. While Motorola Photon 4G supports the latest 4G network technology, the iPhone 4S offers you with unique applications like Siri. However, go for the Motorola if all you love is speed and weight. But if you want something sleek and trusted, iPhone 4S can't be beaten by any. The ultimate verdict should be yours.