The Challenge
Between the much anticipation and hype around the launch of iPhone 4S, few would have taken note of the latest offerings by HTC and Motorola. HTC Amaze 4G and Motorola Atrix-2 are two docile looking but capable smart phones packed with features, which are quite capable of taking the top spot in the niche premium smart phone market. Since the timing of the launch is kept before the Christmas when a lot of us would be considering to buy a smart phone for ourselves or to gift somebody, the potential consumers could certainly look up these two smart phones as their option. To make it easy for them to choose the right smart phone, we will do a comparison of both models and find out their upside and the downside. Let's read on to find out more.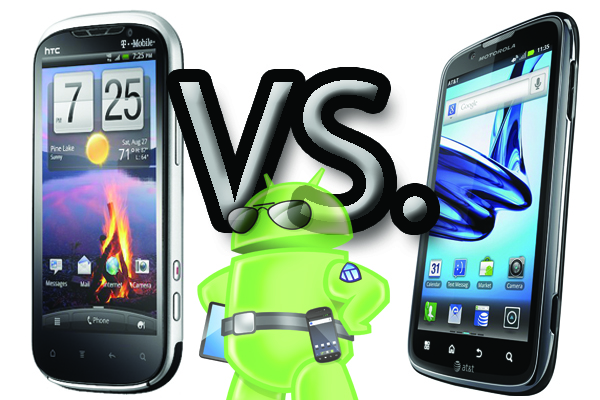 Round one: Display and size
HTC Amaze 4G comes with a huge 4.3 inch SLCD capacitive display with a resolution of 540 x 960 pixels. Motorola Atrix-2 has the same 4.3 inch capacitive display with 540 x 960 pixel resolution.
HTC Amaze 4G measures 130 x 65.6 x 11.8 mm and weighs 173 g. Motorola Atrix-2 measures 126 x 66 x 10 mm and weighs 147 g.
Round two: Processor and OS
HTC Amaze 4G has a clear advantage over any other smart phone here with its super fast 1.5 GHz Qualcomm APQ8060, dual-core processor over Motorola Atrix-2's 1 GHz TI OMAP4430 dual-core processor.
Both run Android Gingerbread (2.3.4) in their core out of the box. Owners of both smart phones will be able to upgrade to the next release of Android, ice cream sandwich at a later time.
Round three: Connectivity
As the name HTC Amaze 4G suggests, it boosts one of the fastest data speeds available today over the mobile networks on a mobile device, reaching up to 42.2 Mbit/s against the 21.1 Mbit/s maximum data rate of Motorola Atrix-2, which also supports 4G. Both mobile phones support GSM, HSDPA+, UMTS and EDGE technologies.
HTC Amaze 4G supports bluetooth 3.0, GPS. Motorola Atrix-2 supports bluetooth 2.0, GPS, A-GPS along with turn-by-turn navigation support.
Round four: Multimedia and camera
HTC Amaze 4G has 16 GB of built-in memory, while the Motorola Atrix-2 has 8 GB of built-in memory. Both smart phones offer expandable memory up to 32 GB.
The most attractive feature of both smart phones is their 8 MP auto-focus cameras. HTC Amaze 4G boosts an 8 MP shooter with dual LED flash and a 2 MP shooter front facing. The Motorola Atrix-2 has an 8 MP shooter as well but with a single LED flash and a VGA camera in front. Both cameras support full HD video recording at 30 fps.
Battery
Now let's talk about the most important aspect of any smart phone. What is the point of having all the technology one can imagine in your phone and if it doesn't even last half a day right? The bigger the screen size is, the bigger the juice they need, in other words battery.
HTC Amaze 4G comes with a 1730 mAh Li-ion battery that can give you up to 6 hours of talk time and 264 hours of stand-by time as per the specs. The Motorola Atrix-2 comes with slightly bigger 1785 mAh Li-ion battery that will give you 8.5 hours of talk time and 382 hours of stand-by time.
The verdict: Winner
They may not be the best displays out there but both smart phones boast 4.3 inch display that is big, bright and beautiful to look at, having upgraded their resolution to nHD, they look equally good and crisp. The Motorola Atrix-2 is slightly smaller, thinner and lighter than HTC Amaze 4G. The Motorola Atrix-2 has a battery life longer than HTC Amaze 4G. The better battery life of Motorola Atrix-2 can be attributed to its marginal bigger battery than the HTC Amaze. But the true reason could be the fact that Atrix-2 is powered by a 1 GHz dual-core processor against the mighty power consuming 1.5 GHz dual-core processor of HTC Amaze 4G. The HTC Amaze 4G has a higher data rate and a faster processor, but in real world, such high 4G data speed will not have practical implications yet. Even with a slower 1 GHz dual-core processor compared with HTC Amaze 4G's 1.5 GHz dual-core processor, the Motorola Atrix-2 does not suffer from any navigation slowdown or laggard performance at any instant.
With a lighter, slimmer hardware that offers better battery life and better turn-by-turn navigation with the help of its built in GPS/A-GPS module, Motorola Atrix-2 takes away the crown in our smart phone challenge.