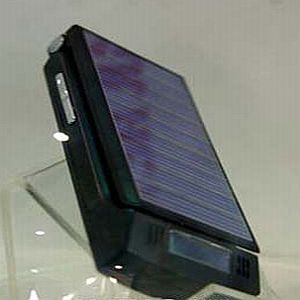 While we have come across many solar-powered cell phone prototypes, we haven't been able to see them available commercially. But now, Hi-Tech Wealth, a Chinese company claims to be offering the world's first commercially available solar-powered cellphone. The handset uses solar energy to add juice to the battery.
The company says that there is a scale-like solar panel on the top side of the flip phone that could be recharged by light from other sources also such as candles. The phone is claimed top offer 40 minutes of talk-time after sitting in the sun for an hour. Zhang Zhengyu, chairman, Hi-Tech Wealth said:
With more than 400 million mobile phones in the country, China would save a great amount of electricity if all its mobile phones were recharged by light.
Interestingly, the company claims the battery of this solar-powered mobile phone to be 2.5 times longer than that of traditional batteries. They will be rolling out six of its light energy mobile phones this year followed by another 30. No info on pricing.
Via: techShout