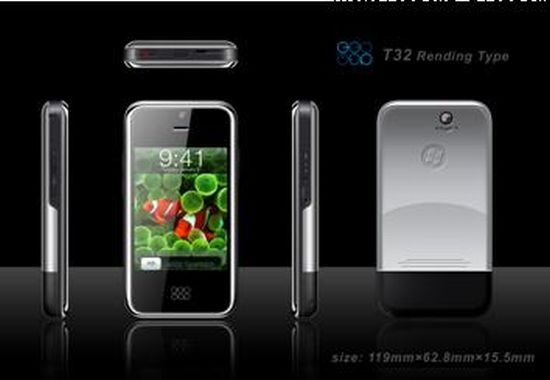 Anything you can do Chinese labor can do (read clone) better. Or should I say cheaper? It looks like Chinese have got on their list of things to clone the hottest gadget of last year – the iPhone. A Chinese reseller is already on the job and has delivered a pretty exact replica of Apple's iPhone, only this one runs on Windows. Consequently, it sports a Windows Mobile logo where Apple likes to have its. This phone "T32" is listed as available soon and it looks just like the original, albeit a bit thicker. The 3.5-inch touch-screen supports QVGA, but those two are the only differences, or so it seems.
Here are some specs from the manufacturer:

• Operating System: Windows 6.0 mobile pocket
• GSM / EDGE; / GSM900/DCS1800/PCS1900
• Front camera of actual 3 MP, behind camera 2 MP
• 1Gb+512 Mb RAM (DDR) system memory
• Built-in Bluetooth 1.2, support A2DP standards and Bluetooth Stereo headphones
• Built-in GPS satellite navigation system, Wi-Fi wireless Internet access
• Support for Microsoft Office Outlook, Word, Excel, PPT, Html, enable you to do online business anywhere
• ActiveSync4.5 synchronization software
• Built-in Media Player, with PC synchronization, support up to 2G expandable storage.
• Stocks online, Skype, Kingsoft, network television, calls firewall, voice, calendar, a variety of third-party plug-300
There seems to be some good to be report though. There is an incorporation of a "three sensor design." A Light Sensor adjusts screen brightness, a Movement Sensor adjusts for cross-screen display and a nearly sensor switches off the screen when the phone is held close to the ear.
All said and done you have to respect the ability of the Chinese to be able to copycat so well. By the way is that Windows licensed or what? Try and smuggle one if you want one coz with those design credentials there are little hopes of seeing this outside China.