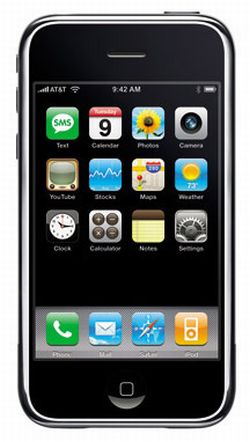 The sleek and stylish iPhone from Apple, one of the most sophisticated mobiles currently available, is already a popular product in Germany, France and the UK. In this scenario, it is only expected that, Apple would try to extend its iPhone-network to more European nations. In fact, according to reports, Apple has already started negotiations with other potential iPhone partners in Spain, Italy and Switzerland. The popular morning daily in Spain, El Periodico, has already reported that, the Spanish wireless network, Telefonica, has been assigned the responsibility of bringing the Apple iPhone to the country. The new iPhone partnership between Apple and Telefonica is expected to be announced at the Mobile World Congress,to be held in Barcelona during 11-14 February .
Italian news site, Macity, also reports a probable future partnership between Apple and Italy's Telecom Italia Mobile. The software of the Apple iPhone in Italy reportedly has a remarkable built-in piece of code. The firmware has also revealed a carrier bundle, named 'TIM_Italy.bundle'.
Switzerland's telecom network, Swisscom, is also expected to enter into a deal with Apple, as per reports in Swiss newpaper, Le Temps. In fact, internal sources have already confirmed Apple's decision to select Swisscom as the iPhone carrier in the country.

Apple is expected to hold talks with quite a number of potential iPhone partners at different mobile conventions over the coming fortnight. The upshot of these negotiations would be clear as soon as these negotiations are over.
Source:Intomobile