Many times, people forget to charge their phones or laptops when these are on low battery. They suddenly realize about charging them when they reach a supermarket, bus station, or café.
However, it becomes impossible to charge their phones at such public places, forget about the safety while charging them. To solve such issues, Sergio Alonso has designed a cool charging kiosk called Celphone, which can offer a secure charging place,even at public spots. Check out what this wonderful kiosk is all about.
The design idea and its usefulness
Celphone has been designed while keeping in mind the gadget charging issues faced by people on the go. It is also developed for businesses that may want to offer a freebie to their customers.
While a free secure charging service can be helpful for the publicity of businesses, it can also be used as a business idea if one decides to charge for this gadget charging service. In both ways, the ultimate customer finds some good help when they have to charge their tablets or laptops in urgent situations and in a safe public setting.
Appearance and features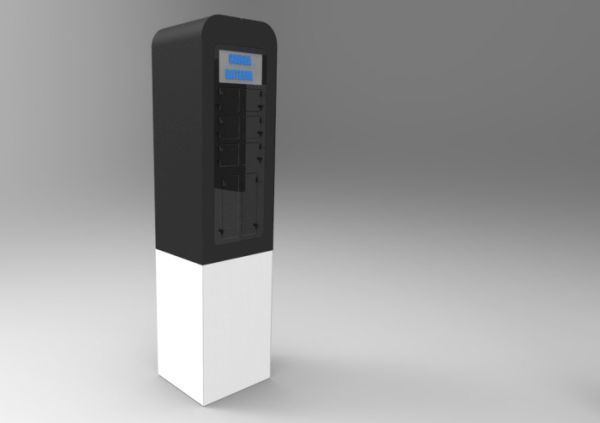 This phone charging system with built-in lockers looks modern, elegant, and stylish. Its smooth finish and non-edgy design gives it a fashionable feel. The use of white and black colors makes the system appear quite decent.Thus, it can gel well with its surroundings at any public place. The entire charging station is a complete unit in itself, which has eight lockers arranged vertically in the middle.
There are six lockers provided for the charging of phones and two larger ones for the charging of laptops and tablets. The design of this kiosk is very ergonomic. All the individual lockers have secured doors that allow digital locking and unlocking. The digital control to do so is affixed right on the door itself.
Inside every locker, you can find all the possible charging plugs that may be required to charge your smartphones, laptops, and tablets of different brands. Thus, the Celphone charging kiosk gives you the freedom to charge your gadget securely when you are out of your home.
Cellphone phone charging lockers are designed nicely to give people a reliable system of charging phones at public places. This charging kiosk can also be an effective idea of promoting businesses.
Source : Coroflot.Com