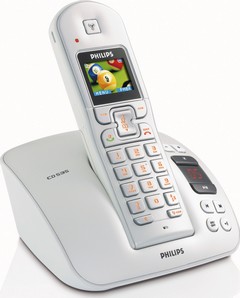 It took a long time for someone to come up with but the product looks cool. The Phillips CD5351S DECT is a cordless color phone. Its displays 4096 colors and has the resolution of 98 x 67 pixels.
The phone's base acts as an answering machine and paging key is also incorporated in the base.
The phone can store 50 numbers and has capacity to store and send SMS. The answering machine can record up to 15minutes and you can also make caller groups and assign tones.
The dimensions of the phone are 153 x 50 x 29 mm and base dimensions are 125 x 117 x 56 mm. the phone has been priced at $89.
Via: Slashgear