RIM had added up an incredible handset in its Torch lineup with the debut of its 9810 model, a few months ago. Renowned for their sophisticated features and breathtaking interface, BlackBerry Torch 9810 enhances the mobile experience to new heights. The new handset has overtook its previous models in terms of speed, comfort and quality. Literally, by satisfying the buyers' needs, the device manufacturer is making people to think beyond reality. Indeed, there are some overwhelming stuff in this handset that are good enough to dig in, even after glancing its expensive price tag.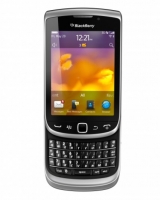 Performance
Torch 9810's rapid and instantaneous response from the touchscreen overwhelms the viewers at their first use. Its Li-Ion battery delivers an appreciable talk-period of about 6.5 hours on 2G and about 5.8 hours on 3G, with a standby time of about 300 hours. Though the sliding qwerty keypad is convenient, its tiny keys cramp the typing process. The primary camera's image quality is good; but noise is visible, especially in those images captured on low-lit areas. Its optical track-pad helps the users to pinpoint the cursor on the exact spot, which is highly laudable.
Features
Torch 9810 embraces a 3.2-inches capacitive TFT touchscreen that could vibrantly display 16million hues of zestful colors. Technically, this touchscreen expresses information in the resolution of 480 x 640 pixels. The sliding out qwerty keypad is the highlight of this device. Typing over the touchscreen is quite grueling for beginners; inclusion of a comfortable qwerty keypad averts this uneasiness. The device runs on BlackBerry OS version 7.0. A 1.2 GHz processor along with 768 MB of RAM delivers a swift experience. The handset's Liquid Graphics technology deserves a special mention here. Literally, this feature lets users to switch screens with a blink of an eye. To be precise, it delivers rapid response timings that could stun the users about the handset's touchscreen functionality.
The presence of accelerometer, proximity sensor and ambient light sensor enhance the handset's value, and saves unused energy whenever possible. Browsing internet is an effortless task with its dedicated browser. For the business geeks, inclusion of Document viewer brings a mobile office at the comfort of their handset. As the device is compatible with GPRS, EDGE, Wi-Fi and 3G, accessing internet is simply a child's play. On the multimedia side, Torch 9810 entitles a 5 MP camera that could capture moments on the resolution of 2592 x 1944 pixels. Fortunately, this primary camera is endowed with sophisticated features like auto-focus, LED flash, Geo-tagging, face detection, continuous auto-focus and Image Stabilization. To add up, this camera could record 720p HD videos as well. Unfortunately, the handset lacks front-facing secondary camera.
Torch 9810 encompasses an A-GPS feature that aids the users to drive through untraveled roads at ease. A standard Lithium-Ion battery with a capacity of 1270 mAh, powers up this device. Connecting this handset with other devices and computers is quite easy owing to the presence of Bluetooth and micro-USB port. The device embraces an inbuilt memory of 8 GB, while its expandable memory capacity supports up to 32 GBs of deliberate space, through micro-SD cards.
Design
Torch 9810's sliding form-factor with a qwerty keypad is the instant attraction. The bulky looking device measures 111 x 62 x 14.6 mm in dimensions and weighs 161 grams. On the first layer, the 3.2 inches touchscreen with the customary touch buttons are embossed. With just a little push towards the upper side of the mobile, the handset will slide out and showcases the keypad that are designed with tiny keys. The device features a stupendous black and silver trim with plastic and metallic accents around the body. On the right face, the volume control rocker and the dedicated shutter button are designed, while the micro-USB port is identified on the left. As conventional, the primary camera and the LED flash light takes position on the rear panel, while the inbuilt loudspeaker sits below. Micro-SD port is found inside the battery casing.
Bottomline
BlackBerry Torch 9810 resembles its predecessor at most instances. However, rapid response and amazing OS performance are truly unique to this handset. Along with rich browsing features, Torch 9810 is a well designed quirky handset. On the other side, contemporary buyers could not be satisfied with the handset's unfashionable functions at its expensive price tag.