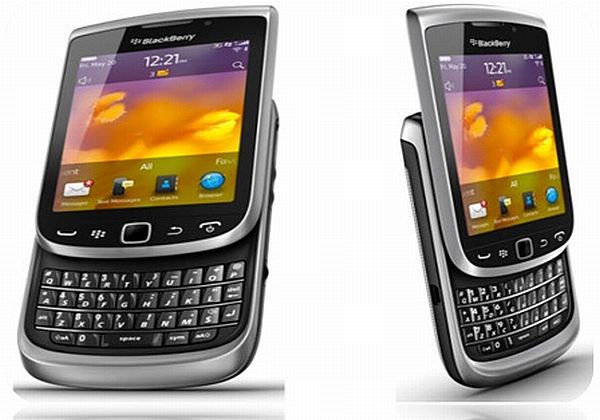 Research In Motion (RIM) introduced their BlackBerry mobile phone back in 1999. This was a huge hit among users especially with the businessman and executives due to its mobile e-mail and smart phone features. Also it was one of the first mobile phone that introduced the track ball in their hand set so that users can easily navigate through different menus and applications from the device. BlackBerry was known for its push mail technology that is send and receiving mails in the handset, internet, e-mail features wherever there is a mobile network present. Also it supports various messaging features including BlackBerry instant messaging service. Due to all of these features BlackBerry become very popular among the organizations across the world.
Recently BlackBerry launched their new Torch 9810. In this article we will discuss the different features of this new smart phone from BlackBerry's stable.
Pricing and Availability
BlackBerry Torch 9810 is already available in the market from August 2011 and the price is around $799. But one can also get the same for a lesser price from Amazon website.
What's great?
Specifications
BlackBerry Torch 9810 has been revamped from earlier models to give the users a unique experience. It is just 2.44inches breadth and 4.37 inches long with only 0.57 inches wide. Screen is of 3.2 inches and it supports up to 640X480 high resolutions with touch display. It is weight is around 170 grams. It has 768MB of RAM and 8GB of internal storage space and also it supports up to 32GB of external storage. So users can downloaded a lot of applications from their BlackBerry service and use them.
Touchscreen with QWERTY keypad
Those who love the touch screen but feel that a normal keypad while typing they have can now feel good as the Torch 9810 has both the touch pad and the QWERTY keypad. This is in form of the slider design, so to type using the keypad one has to slide the screen upward.
Appearance and Build

Torch 9810 isn't the most stylish looking mobile around but obviously it will create attention among others when one flashes his/her BlackBerry Torch 9810 in the public. Build quality is great for this device as well as with the other BlackBerry model. The screen, the back, the chassis is hard, durable and feel good in hand.
Processor and Operating System
This new Torch 9810 has Qualcomm Scorpion MSM 8655 processor which has a clock frequency of 1.2 GHz. It has also an onboard Adreno 205 GPU which enables the users to have the touch screen facility. The processing speed is much higher than the previous generation BlackBerry. It also includes 3D graphics that enables High Definition video recording.
BlackBerry Torch 9810 is pre bundles with BlackBerry Operating System 7 which is very fast than the older operating system and this also uses the memory efficiently which gives a performance boost. Now user can download four applications while working on some document or sending a mail and at the same time listening to some music without slowing the device.
Keyboard/Typing
The keyboard is very good, sturdy and responsive as well. This time the keypad is a bit wider than the previous version of Torch. Also RIM this time includes virtual keyboard as well which one can use using his/her thumb over the screen. This is a much geed feature that many users will appreciate.
Touchscreen performance
The touchscreen has been improved a lot from the previous version of BlackBerry and the response is very good as well. There is no lagging factor present in the touch screen. Also the touch screen is very accurate when we compare the performance of touch screen with other smart phones.
Battery Life
Battery life is another concern for RIM as earlier models did not have good battery life. But Torch 9810 has good battery life. It can support talk time up to 6.5 hours. Stand by time is 12.8 days in GSM connection. It can play music continuously for 54 hours and play video for 7 hours.
Call Quality and Speaker
With call quality and audio there is no issue rather they have performed very well. Speaker mode is quite louder and the voice is sharp so there is no clutter with listening to the listener though it has performed poorly in an area where the signal is not strong.
Camera
Torch 9810 is bundled with a 5MP auto focus camera. It can take picture with 2560X1920 resolutions which is really good to get all the minute details from the object. But the video recording resolution is limited up to 720X1280 resolutions. This may be the limitation of the current chipset of BlackBerry Torch 9810. Also now this model can record HD video as well and there are different modes such as landscape mode to help the users.
Bluetooth, GPS, Wi-Fi
Bluetooth performance in this model is exceptionally well and during the testing we have connected 5 devices together for 30 minutes and none of the devices ever dropped during this time. GPS performance also improved due to the magnetometer which is a part of the new OS. It can point out the location that one want effectively. It is supported with 802.11 b/g/n and it is very easy to get connected in the Wi-Fi zone.
What's not so great?
Though this is one of the finest from BlackBerry's stable but looks wise this is not so great. If BlackBerry has to lure the young customers then they must have to think of something innovative.
Battery door is not very impressive and it is from the old design. It can be also modified.
Camera is good but at this price point users are expecting more mega pixels (MP) not just a 5 MP camera.
Things to watch out for
In this model we are really impressed on the processing speed. It is really fast than the previous models. But again in the market mobile phones are available with dual core processor for a competitive price. So blackberry has to think about that option as well in future.
Verdict
By launching BlackBerry Torch 9810 RIM has proved that they are still in the competition to gain the largest pie in the mobile market. Whereas there are over 2.5 millions applications are available for iPhone users and there are numerous free applications available for Android based phones, there RIM has only few applications and they are not in favor for open source as yet. They may have to rethink about this strategy.
Other Alternatives
There are lot of other alternatives are available in the market at a much cheaper cost. Such as Apple iPhone, BlackBerry Torch 9800, BlackBerry Bold 9930, LG Optimus, Nokia C7, HTC Desire C7.