Blackberry 9500 comes dressed in a black piano finish with metallic stainless steel lining while, the back panel is made out of plastic. The phone has a smooth UI and they keys too are made out of metal. This time blackberry has incorporated a dedicated camera button along with same old volume rocker. The screen is capacitive clickable touchscreen with SurePress technology.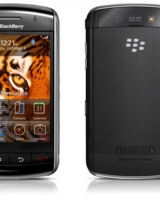 Performance
The phone runs on Blackberry OS with a 528MHz Qualcomm processor, and to be honest it does the job pretty fast. There are some negatives to just like all other phones. At times you will experience a delay between the typing and appearing of text on the screen. However, this does not happen everywhere but, only in a few fields. The SurePress technology imitates physical type button feel. Wiping of finger on the screen to navigate is still there. You have a choice in keyboards; you can choose a default keyboard from SureType, QWERTY and alphanumeric. The default type of keyboard is switched when you tilt the phone to switch to landscape mode. Though the screen is made to avoid errors but the truth is you will take some time to get used to it. The accelerometer sensor is too sensitive and picks up small movements too and you can't really adjust its sensitivity.
Features
Camera has been a weak point in Blackberry phones but, this phone has a camera with improved performance. The 3.2 MP camera has auto focus, flash and digital zoom up to 2x. Blackberry Storm 9500 has all the conventional blackberry apps like Organizer, multimedia player, Data Access Options and the Blackberry app world. It has a 1400 mAh battery which offers a good talk time of six hours and a standby of 15 days. It has a RAM of 128 MB and can be extended up to 1 GB using embedded multimedia card. SurePress makes navigation and using the screen a breeze. It gives you all the features on the screen itself, while there are a few keys too in the phone. The great design and built makes this a great business phone.
Design
The display is 3.2 inches and it delivers an amazing picture quality. The screen offers a resolution of 480×360 pixels. The screen enhances the multimedia experience on this phone. SurePress gives you a feel of real buttons with a small inward movement. The screen needs a very light tap and avoids mistyping and other typographic errors. The dimensions are 112.5x 62.2x 13.95 mm and the phone weighs 155 grams, with the battery. Under the hood this phone has a 528MHz Qualcom processor.
Bottomline
The phone is priced around Rs 16,749 and is sold with 1 year manufacturer warranty. The phone is made for business purposes but it fails. A business phone will certainly require a physical keypad and it seems irreplaceable with the existing technologies. The touch-n-press technology is not doing its best for the business users. You should really check other Blackberry phones with a physical QWERTY keyboard, if you are looking for a real business phon