BlackBerry Storm 9530 is one the few Blackberry touchscreen phones. The phone is targeted at iPhone users. The phone has a 3.2 inch display, onscreen SureType keyboard and 3.2 megapixel camera. The phone is very slim with a thickness of 0.5 inch. The memory of this phone can be expanded and you can put media files in the micro SD card, which can be picked directly by media player.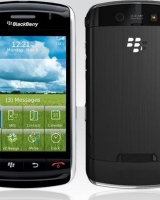 Performance
The full HTML browser works great in both the portrait and landscape style display. It recognizes a lot of multi finger gestures which makes it very easy to surf internet and navigate to websites quickly. The browser lets you download files and stream audio-video with the help of RTSP protocol. The browser supports RSS feeds too. The phone is equipped with GPS, which works with blackberry maps and other location based services. The browser is very powerful and fast will accompany you in every internet task. This phone also has good social networking apps for Facebook, Twitter and Myspace.
Features
The phone has an internal 128 MB of RAM and 1 GB of storage space. A maximum of 16 GB memory can be expanded via micro SD cards. The 1400 mAh battery provides a good five and a half hour of talk time, while the standby is 360 hours. It has all the major connectivity options offered in phone (except Wi-Fi) like 3F, GPRS, PC link, Bluetooth, USB and WAP. The 3.2 inch TFT screen offers a maximum resolution of 480 x 360 pixels with 65k colors. The QWERTY pad on the phone lets you type emails and long text messages easily.
Voice dials lets you make call using voice commands. The voice recording feature has also been incorporated in the phone. The 3.2 MP camera comes with flash and digital zoom. Most of the popular audio-video formats are supported by the phone which includes, video formats like MPEG4/3gp/H.264/WMV and audio formats like MP3, AAC, AAC+, eAAC+, WMA, WMA ProPlus. The document reader in the phone supports variety of MS office files like Word, PPT and Excel. It also supports PDF format. This java enabled phone has other handy features like handfree, flight mode, notes, to do list, internal antenna and games.
Design
The phone looks very attractive in its slim profile. The phone is a little heavier and thicker than an iPhone. The build quality looks amazing. The screen offers rich, vivid colors, along with a great viewing angle. The build quality and design are the best points about this phone and this will surely impress you too. Just under the screen you will find four usual buttons, which includes calling keys, back and a Blackberry key. The top of the phone accommodates mute and lock switches .On the left side you would find a customizable key and a USB slot. The right side is occupied by a volume rocker, the second customizable key and 3.5 mm audio jack.
Bottomline
It is clear that this phone is trying to take the iPhone spot in the market. The phone has a great design and construction. The full HTML browser provides you great audio-video streaming capabilities along with RSS. But the phone is epic fail if we compare it to the iPhone. The screen is very good and it a pleasure to use it. It displays beautiful crisp colors. It has a lot of pre loaded apps, so you can use right out of the box. Another big negative of the phone is absence of Wi-Fi. We all know that 3G data rates are very high as compared to Wi-Fi. You can't really type very fast on this screen and can be rectified with help of an update. So altogether this is a great new range of phones by RIM and one should really check it out if you are a Blackberry fan.