Renowned for their push-mail and instant messaging services, the Canadian based telecommunication company, BlackBerry, added a remarkable device to their product lists, a few months ago. Titled as BlackBerry Curve 9380, the handset brims with style and sophisticated features. Essentially built as a full touchscreen device, BlackBerry Curve 9380 packs a high resolution camera, amazing processor and an appreciable memory as well. The price of this device seems fair when compared with other similar mobile phones. Catch a glimpse at this handset's packaging brilliance and unparalleled comforts.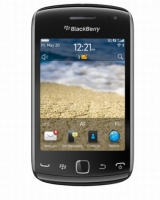 Performance
Equipped with a JM-1 Li-Ion battery, Curve 9380 lasts for about 360 hours in the standby mode on 2G and 3G networks. Regarding the talk period, this handset lasts for up to 5.5 hours on 2G and about 5 hours 40 minutes on 3G, which are quite sufficient for normal usage. The standard buttons below the touchscreen are quite tricky to use, but once you get adapted, the problem disappears. Fortunately, its lightweight design compromises other limitations of this handset. With the standard 3.5 mm audio jack, one could experience an amazing musical experience and indeed, sophisticated headsets could be used as well. The built-in Qwerty keypad is quite responsive and so, delivers an effortless typing experience on the screen
Features
On the first glance, BlackBerry Curve 9380's sleek and compact design attracts attention. The handset embraces a 3.2-inch TFT touchscreen that could display information in the resolution of 360 x 480 pixels. Technically, this device runs on BlackBerry OS version 7.0. The processing unit is formed by a 806 MHz Marvel Tavor MG1 processor and the handset braces a 512 MB RAM for its memory. Curve 9380 supports GPRS, Wi-Fi, 3G and EDGE technologies, with which the device delivers a swift and effortless browsing experience. Inclusion of programs like Word, Excel, Powerpoint and PDF allow the business geeks to work from the comfort of their place. The presence of sensors like accelerometer, proximity and compass makes the users comfortable to handle this device and save energy as well.
On the multimedia side, Curve's 5 MP camera is the first attraction. Fortunately, this primary camera is accompanied by a LED flashlight that helps to shoot in low-lit environment. Literally, this camera could capture unforgettable moments in the resolution of 2592 x 1944 pixels. In addition, sophisticated features like Geo-tagging, Image Stabilization, digital zoom and face detection intensify the imaging experience. To add up, the device supports VGA video recording as well, in the resolution of 640 x 480 pixels. Other features like music player, video player and call options are customary on this handset. Unfortunately, the handset doesn't includes a FM radio.
To the frequent travelers, Curve 9380 helps to navigate on the roads with its A-GPS. A standard Lithium-Ion battery powers up this device for an appreciable time. The handset includes 512 MB of internal memory and supports expandable memory of up to 32 GBs of deliberate space, through a microSD slot. On the connectivity side, presence of Bluetooth and micro-USB functionality aids the handset to transfer data with various devices.
Design
Belonging to the candy bar form-factor, BlackBerry Curve 9380 entitles a sleek and handy design. On the front face, its 3.2 inch touchscreen occupies the entire space, while the basic touch buttons are embossed below it. The micro-USB port is designed on its left face without any protective cover. The volume control rocker and the dedicated shutter button takes position on the right face, which is quite unidentifiable on the first glance. The primary 5.0 MP camera is identified on the rear face as like in any other handset. However, its LED flashlight is positioned away from the camera, but sits parallel to it. The advantage of this position is that when the flashlight is used, noticeable shadows are formed on the subject which creates an overall depth in the photograph, technically. In short, appealing curves around the handset portrays Curve 9380's stupendous design quotient.
Bottomline
To sum up, BlackBerry Curve 9380 is a good bargain for its price. If the exclusion of secondary camera isn't a big concern for the buyer, this handset has got laudable features that are worthy for its price. However, when compared to other Android handsets, this device may seem quite expensive. The device comes with a manufacturer's warranty of 1.5 years for the phone and 6 months for the box accessories.