RIM produces royal handsets for corporate users that include QWERTY keypad, push mail, internet browsing, camera and WiFi. However, all these features are standard on all the smartphones available in today's market. This is the reason why BlackBerry Bold 9900 is nothing less than a shock for us. It offers innovative specifications including OS7, HD video camera, high-spec touch screen and fast processor in an attractive casing. In addition, a fantastic keypad keeps the user interested. Frankly speaking, we never expected to see this kind of BlackBerry before the next millennium. Therefore, we can say that this is the best BlackBerry RIM has built.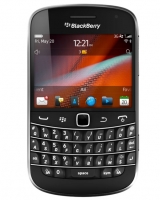 Performance
Needless to say, a Blackberry handset is the best device apart from your desktop/laptop to access your emails. Same compliment goes for Bold 9900. It is bundled with an excellent Document-to-go app that takes care of your entire documents.
The processor in the Bold 9900 makes it the fastest BlackBerry ever and handles everything that you want to use. It has the best keypad that takes a little pressure to press a key and rebound is very fast. Touch screen is smooth, responsive and adds the overall usability of the device.
Features
Bold 9900 is a member of touch and type smartphone family. Its 2.8-inch screen houses new liquid graphics for smooth touch experience and has a resolution of 640×480, which transforms to a pixel density of 286ppi. The phone runs on OS7 and is powered by a Qualcomm Scorpion MSM 8655 1.2 GHz processor as well as an Adreno 205 GPU.
It has an internal memory of 8GB and if you require more storage, you can use micro SD cards up to 32 GB. Your connectivity needs are handled by WiFi, GPS and 3G. One of the major additions in the handset is NFC. RIM is taking the initiative to introduce near field communication (NFC), which is a new technology and other brands are dilly-dally about whether to include it. It has a 5 MP camera that can shoot 720p videos at 25fps.
Media players of the phone support an impressive set of formats including MP3, WAV, WMA and eAAC+ audio files and WMV, MP4, H.264 and H.263 to take care of your video files.
Design
RIM has made some interesting decisions with Bold 9900 and they succeeded to make a phone that looks like a quality product instead of an electronic gadget. Leatherette back is gone and you will see a carbon fibre panel. Bold 9900 weighs 130 grams, so we cannot say it is light but this phone means only business, so it is lighter than we expected it to be. With dimensions of 115 x 66 x 10.5 mm, you can easily slip it in your pocket. In fact, this slim factor can be one of the major selling points for 9900.
A brushed metal border surrounds the high gloss screen while the back panel is made with a combination of glass and plastic. Rear panel also works as a door to the battery, SIM card and memory slot. Right side of the handset has four buttons. Three of them are together. Top and bottom keys work as volume up and down while the center one can be used to pause media. Fourth key is for the camera, which can be changed to something else according to your requirement. Left side is reserved for slots including a micro USB charging/syncing and a 3.5 mm audio port.
Bottomline
BlackBerry Bold 9900 is the perfect upgrade for existing BlackBerry users. Its touch screen is great, keyboard is excellent and there are plenty of preloaded applications. However, when compared to iPhone and Android smartphones, it lacks behind. It is because of small screen and lack of current apps, which limits what you can do. Apart from that, it is very expensive; in fact, the word "expensive" is not enough, because it has a price tag of whopping Rs. 30, 490, whereas one of the powerful handsets from Samsung Galaxy series is available for around Rs. 27, 000. Therefore, if you are a diehard fan of BlackBerry or a superb physical keypad still attracts you, you can buy this phone otherwise there is no point to switch after paying such a huge amount